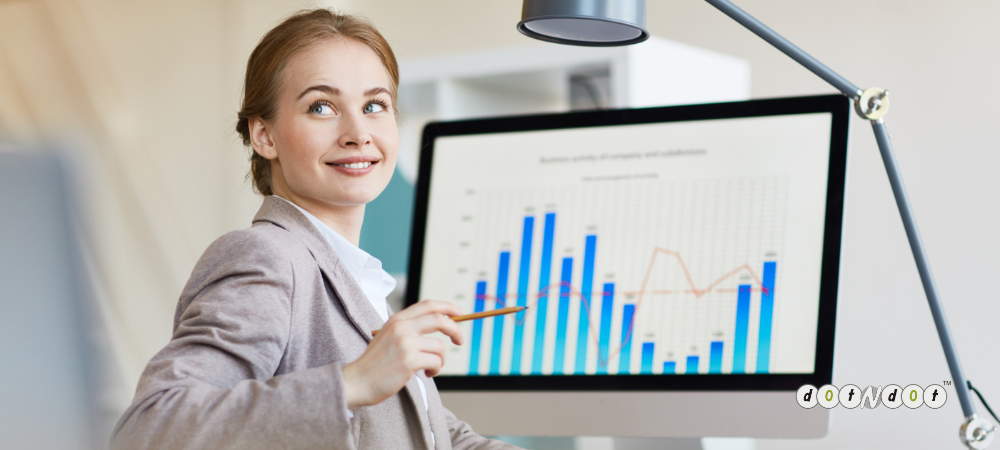 Account-based marketing is the craving topic as it has become the source for driving sales through the marketing team's launch of the effective funnel. It helps increase conversions, find your valued customers, and minimize ad spending. Account-based marketing benefits you like all one platform that allows personalized advertising and marketing efforts. It identifies the potential leads from actual data.
Several account-based marketing tools are available in the market, but one alone can't find the best-performing tools that every business should find better performance results. The mix and match of the following tools can help you build the most out of customer data and improves your marketing campaigns.
Account-Based Marketing Tools
1. Marketo:
This AI-powered tool supports you in scanning the contacts and generating the lead scores, which can be used to find potential accounts.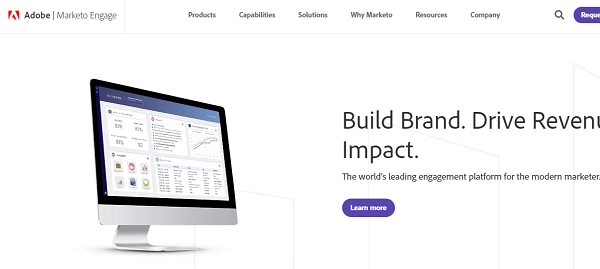 2. Leadfeeder:
This can be used to identify which companies are in the visit to your business website, and you can trace the contact information to get the leads.
3. Logic:
Businesses can use this tool to identify relevant contacts, engage contacts, and convert them to measuring ROI metrics.
4. Demand Base:
This tool's design helps build strong communication over marketing, sales, and advertising.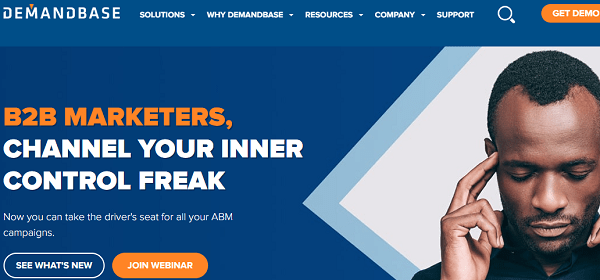 5. Listen Loop:
You can launch personalized ad campaigns for particular accounts and target those accounts over multiple ad networks.
6.HubSpot:
It provides insights that help enrich the accounts with third-party vendors' data. It also includes information about revenue, location, employee count, industry, etc., in contacts.
7.LeadGenius:
This data intelligence tool collects and filters the information of accounts, and still, they of the human research team to the clients to find high-quality data.
8. Vainu:
Through this, you can easily find and segment the dormant accounts for each ad campaign depending on company filters and also targets your ABM efforts.
9. Infer:
It can collect external and publicly shared data that helps run the data with algorithms that inform account, behavioral, and lead scoring.
10. Integrate:
The integration with leading CRM and MAP tools is enabled to suggest B2B marketers synchronize the target account data.
11. Engagio:
It has a unique feature that combines the lead information from different sources, using data for quality scoring, prioritizing, measuring ABM success, and social media engagement strategies.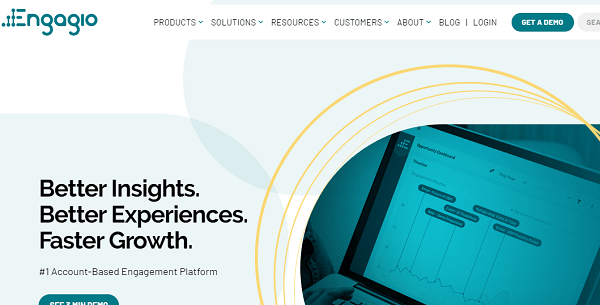 12. Terminus:
Especially at the target accounts, it helps identify the critical decision contacts and engages with the web, video, mobile, and social ad campaigns.
13. Datanyze:
It lets the marketers identify, build, and curate the prospects lists and find the leads score to place them in the pipeline.
14.DataFox:
Marketers can search for similar or existing companies' profiles lists that fit the business.
15.LeanData:
It helps marketers match the leads to accounts that are best fit to make conversions.
16. Azalead:
This allows businesses to target prospects from the entire lifecycle of customers.
17. Radius:
Using this tool, you can identify the decision-making accounts and launch the targeted ABM campaigns.
18.DiscoverOrg:
It offers a 95% accuracy rate for generating email addresses, contact numbers, titles, etc. The accuracy of these contact numbers lets you target the right decision-makers to create sales.
19.ListenLoop:
This tool enables targeting specific accounts by delivering the most personalized ad campaigns.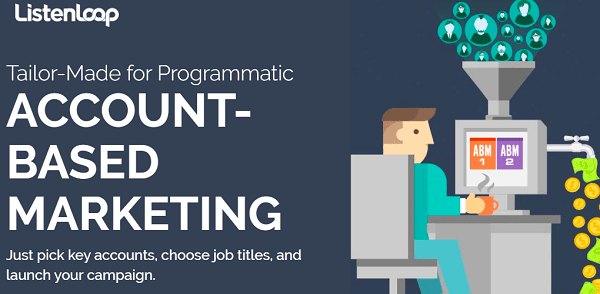 20.UberFlip:
This tool helps optimize any business's content and intended saudience'ssense:
This can target the exact audience that generates a sales funnel.
22. Segment:
This tool can find the most accurate customer data, which can be used wherever and whenever needed.
23.InsideView:
With the help of this excellent tool, businesses can search and find prospects' insights.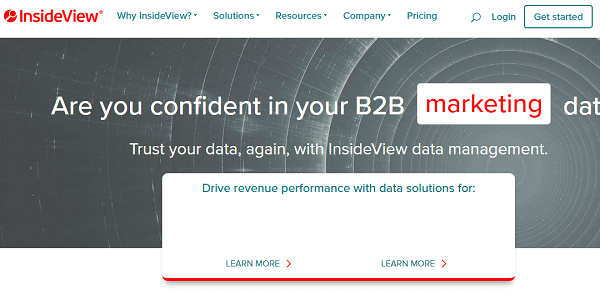 24. Nudge:
This tool helps businesses to hold track of potential leads who are already in the sales pipeline.
25. Snitcher:
It integrates the data sets into the CRM while sending an ad campaign.
26.PathFactory:
It is a content activation and insight tool that lets you ensure you deliver the relevant content to the right audience.
27. Zymplify:
Through this tool, you can effectively use email marketing, contact CRM database, analytics, targeted ad campaigns, social and mobile marketing, etc.
28. Owler:
Using this tool, you can find daily snapshots of your prospects' activity prospects on acquisition and funding information.
29.ZoomInfo:
It enables you to collect the data required to conduct ABM through contact searches and contact them the most personalized way.
30. Leadiro:
It is one of the top ABM tools that help businesses search for new leads and contacts by using filters and search metrics.
31.LeadSift:
You can find the updates depending on the targeted user engagement that displays the buying activity of the audience.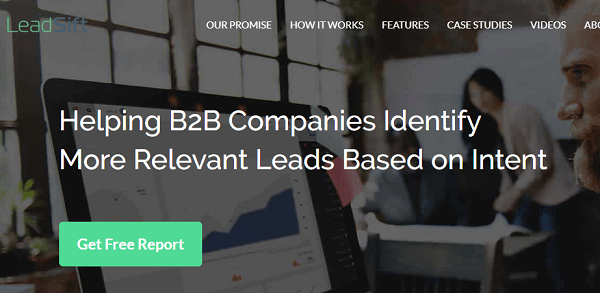 32.LinkedIn:
Time is the countable source that helps in lead generation, and in such a category, LinkedIn is the best tool to find business contacts to get leads.
33.ZenProspect:
It helps to import the potential lead into CRM directly, including the present contact data and account-relevant metrics.
34. Sigstr:
Target the audience by delivering timely and relevant email marketing campaigns.
35.SiriusDecisions:
This tool can find perspective information, guidance for operating successfully, and insights.
36. Adobe Campaign:
Creating ad campaigns, especially for desktop and mobile marketing projects, business objectives reach, and the production of email marketing campaigns is possible through this tool.
37.ReachForceSmartSuite:
This is the best tool to get the most out if you have an outdated list or inadequate data.
38. Everstring:
If businesses want to know the buying behaviors of the contacts they want to target is possible with this tool.
39.TechTarget Priority Engine:
By using this fantastic tool, marketers can establish and monitor the list of ABM prospects.
40.AdDaptive Intelligence:
This tool tackles both the online and offline business data, supports the customers, identifies the lookalike audience from existing, and identifies the business IP addresses with no cookies.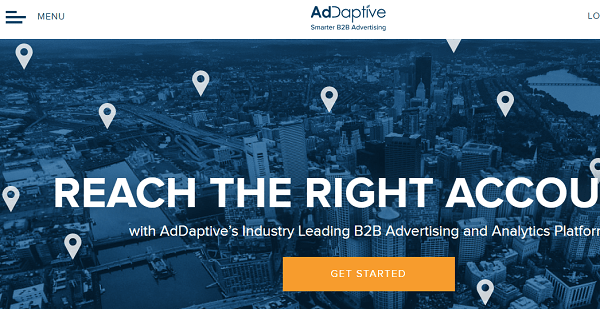 41. Groove:
This helps to hold track of account contact engagement, label and filter the prioritized leads, and maintain the multiple contacts of a company that you need.
42. Sendbloom:
The integration of Gmail and Salesforce will let businesses create one-to-one ad campaigns. The added data will enable them to see the other tools' insights when tools this tool.
43. Act-On:
It offers many automation tools, including forms, events, webinars, and landing pages.
44.LayerEngage:
It is a conversational marketing tool that focuses on generating quality leads automatically, engaging prospects, and using chatbots to book an appointment for meetings.
45.ActiveDemand:
It offers automatic segmentation, dynamic content, behavioral targeting, lead scoring, predictive email sending, etc.
46. Outbrain Amplify:
It supports generating self-serve and managed services platforms to launch segmented ad campaigns and placements.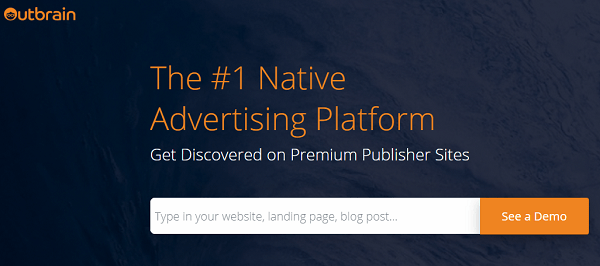 47. Personyze:
It includes the recommendation engine, personalized popups, personalized recommendations, emails, audience behavioral targeting, omnichannel optimization, etc.
48. Kwanzoo:
The retargeting and advertising opportunities are offered by it and then make an analysis.
49. Radius:
It provides the tools, especially for new account discovery, finding business opportunities, analyzing lost leads in CRM, etc.
50. Apollo:
Depending on the prospect's behavior, the candidate communicates with them, analyzes present methods, etc.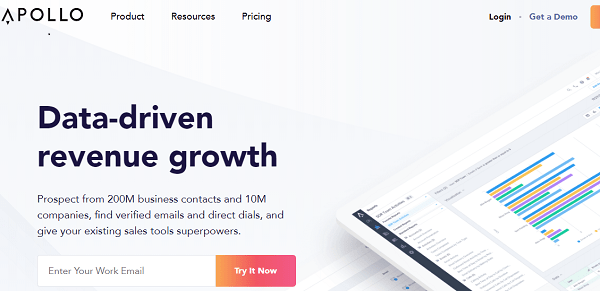 Conclusion
We can find a crowd of these account-based marketing tools in the market, but only a few satisfy the users by offering features like what they need. Using these tools, you can target your marketing efforts, find the increasing chances of winning at your business, minimize marketing costs, etc.
To get the best Account-based Marketing services, visit us DotnDot