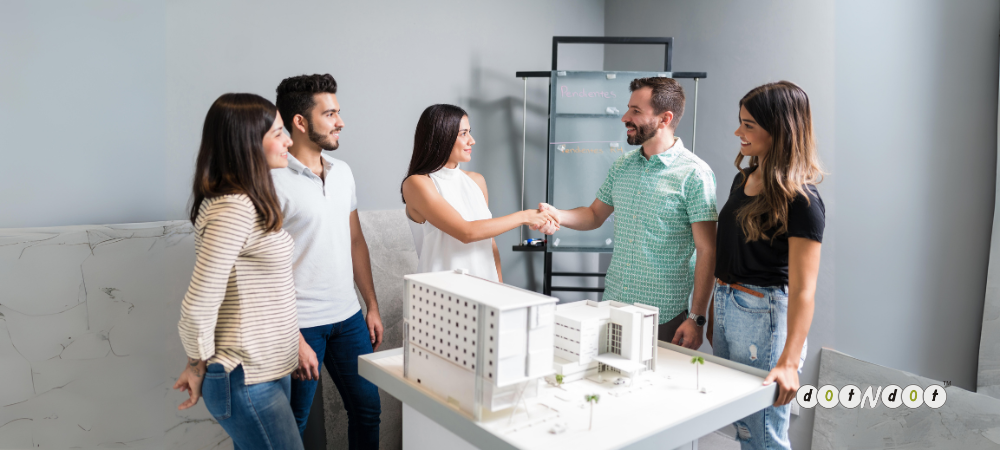 In today's challenging real estate market, finding new clients is essential for realtors to thrive. While traditional forms of advertising like billboards and newspaper ads may still have their place, utilizing online
lead-generation
strategies is crucial for finding qualified leads. We'll discuss some of the best lead-generation strategies for realtors that have been proven to drive success.
What is Lead Generation?
Lead generation identifies and attracts potential buyers to your business through various marketing channels. In the case of realtors, this means finding individuals interested in buying, selling, or renting properties. The goal is to create a pool of potential clients interested in your services and build relationships with them to convert them into actual clients.
Why is Lead Generation Important for Realtors?
Real estate is a highly competitive industry; lead generation can make all the difference. Finding new clients consistently is challenging, and with a steady stream of leads, realtors can keep up with the competition. Lead generation allows you to have a database of contacts you can nurture over time through engaging content to position you as the go-to realtor in your area.
How Can You Generate Leads Effectively?
There are multiple ways to generate leads in real estate. In-person networking, direct mail, and door-knocking are traditional methods. However, working with a
digital marketing agency
to establish a solid online presence and investing in social media marketing efforts have become the go-to approach in recent years. Creating quality content in the form of a video or podcast can also position realtors as experts in their field, which can attract more leads.
The Best Lead Generation Strategies for Realtors
As a realtor, generating leads is crucial to growing your business. Leads are potential clients interested in buying, selling, or renting a property. With the rise of technology and digital marketing, various methods exist to obtain leads. However, not all lead generation strategies are created equal. Some produce wimpy leads, while others create strong and reliable ones. We'll explore the best lead-generation strategies for realtors to help streamline your efforts and obtain high-quality leads.
Social Media
Social media
is a powerful tool for lead generation. It enables realtors to showcase their professional accomplishments, connect with potential clients, and stay on top of industry trends. LinkedIn is an excellent platform for B2B clients, while Facebook is more versatile and can help realtors reach a broader audience. Instagram is also a valuable tool since it is a highly visual platform that can showcase your properties. To generate leads through social media, create an active presence by posting relevant content, engage with your audience, and leveraging paid ads. You can also join Facebook and LinkedIn groups related to your industry to expand your network.
Referrals
Word of mouth is still a powerful tool in the real estate industry. Clients are likely to trust their friends and family members when it comes to choosing a realtor. Therefore, asking for referrals from happy clients can help generate new leads. Referrals can also lead to repeat business. To increase your referrals, communicate your value proposition to your current clients, create an incentive referral program, and follow up with your clients after the sale.
Search Engine Optimization (SEO)
SEO is optimizing your website to rank higher on search engines for relevant keywords. This method helps generate organic traffic to your website, which can result in leads. When it comes to real estate, optimizing for specific areas, neighborhoods, and types of properties can help attract potential clients. Ensure that your website is mobile-friendly, contains keywords in the title tags, meta descriptions, and URLs, and has high-quality content.
Email Marketing
Email marketing is a cost-effective way to generate leads. Email campaigns can target leads who have provided their email addresses through website opt-ins, social media, or events. Real estate agents can use email marketing to showcase their properties, announce open houses, inform clients about the industry, and follow up with leads. Ensure your email is personalized, relevant, and valuable to your recipients. You can also use incentives such as discounts or access to exclusive offers to entice leads to interact with your emails.
Events and Networking
Networking and attending industry-related events can help real estate agents generate leads. Attending events provides an opportunity to meet potential clients and network with other industry professionals. As a real estate agent, consider partnering with local businesses or hosting events such as community seminars to showcase your knowledge and build relationships with residents.
Best Practices for Leadgeneration Retailors?
Develop a Strong Social Media Presence
One of the best lead-generation strategies for realtors is developing a solid social media presence. In today's digital age, clients are more likely to find you through social media than traditional advertising methods. Focus on building a professional presence on LinkedIn, Instagram, and Facebook platforms. Share valuable content, including property listings and informative and market insights. You can also use social media to host virtual open houses or events and engage with potential clients.
Utilize Email Marketing
Email marketing is another highly effective lead-generation strategy for realtors. By collecting email addresses from website visitors or open-house sign-ins, you can curate targeted email campaigns that showcase property listings, market insights, and other valuable content. Consistently sending out informative emails that benefit clients will help establish your expertise as a realtor and keep your name top-of-mind.
Utilize Local SEO
Local Search Engine Optimization (SEO) is a proven strategy for realtors to appear at the top of search engine results pages when potential clients search for homes in their area. Create a Google My Business profile, establish a local-focused website, and optimize your content for local search terms. This will help increase your rankings on search engine results pages and drive more traffic to your website.
Make Use of Lead Generation Services
Lead generation services are companies that specialize in generating leads for realtors. These services boast extensive marketing experience and many tools to attract and capture leads. They often do this by providing paid advertising through various channels, including social media and search engines. Working with a lead generation company can significantly improve your chances of finding qualified leads and closing sales.
Leverage Online Reviews
Online reviews can be a powerful tool for realtors to generate leads. Prospective clients often look for these reviews before contacting a realtor. Encourage satisfied clients to leave reviews on popular platforms like Yelp, Google, and Zillow. Use a review management platform to monitor reviews daily and promptly respond to negative feedback.
Conclusion:
Implementing these strategies can help realtors generate new leads and build a strong reputation in the market. Combine these strategies with excellent customer service and personalized marketing campaigns to stand out. Engage your clients with valuable insights and market data to establish yourself as their preferred real estate agent. If implemented correctly, these lead-generation tactics can elevate your real estate business!