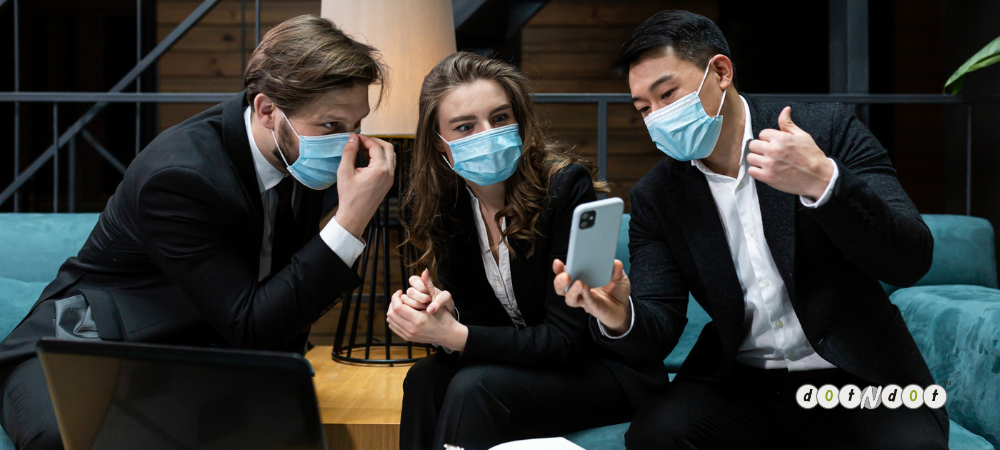 Carona virus is a horrific pandemic that completely takes over the entire world by affecting millions of people. This gave an unexpected break to the global businesses, and the Government order lockdown strategy is letting the customers or clients stay at home. But at the same time, online internet usage and social media platforms have increased during this COVID-19 pandemic. Here are the digital marketing ideas that improve your business growth.
Just delete all the trash about COVID-19 that is being projected by media and find what could be the motivational factors that still helps in the growth of your business that can implement to diminish the economic uncertainties happening due to COVID-19. It's true that no more business as usual as before COVID-19.
We all know that businesses have a considerable loss, and it is difficult for them to top pivot the perfect and adequately resourced strategy, especially while coming to digital marketing.
Most of the marketers, advertisers, marketing managers, business owners, and especially start-up companies are worrying about mitigating these business risks.
But the confidence and positive mindset of you can still add power to your business growth by engaging your audience.
But it is not much easy, we think but don't depress?
Digital Marketing is an evergreen marketing source for all the companies when you do it perfect strategies that never bounce back. The pivoting of digital marketing strategy and the footprint of your business on social media platforms can benefit you and your customers. But the only thing you can do is influence and marketing resources to reach your target and relevant audience.
Digital Marketing Ideas to Consider during COVID-19 Crisis
Of course, we cannot bring back the world average, but in terms of digital marketing, some significant ways help in managing your business by reaching the number of audiences during the COVID-19 crisis.
At this time, the people are mostly looking for information, guidance, and encouragement from their favorite leaders and business brands. Just make responsible communication instead of being an opportunist.
Make sure to encourage the employees to be active on social media platforms by sharing covid19 relevant topics and concerns.
Elevate your business brand by posting positive work done by your company during a crisis that benefits the customers and your internal team.
Train your internal staff and create the policies of social media in diminishing the risks.
Get ahead of future business risks that collapse your industry growth.
Make a research on different and abundant sources to get your business relevant COVID-19 information.
Look for tracing the right questions raised by the customers and feed them with right and relevant answer keys.
Predict the steps to follow and business goals to set up.
Over the shared vision, find the different stakeholders to execute the list of marketing strategies to run during uncertain times.
Launch the e-commerce functionality on your website where the customers show interest in making an online purchase of your products or services.
It is better to use the trending keywords and terms like COVID-19 or Corona and local delivery etc. that can drive present audience traffic.
Analyze the ad campaigns on Google, Instagram, and Facebook, etc. to find the audience insights to better understand your customer needs through ROI, especially from some specific search terms.
Explore your marketing strategies by an in-depth discussion with your team where your business falls, where you can hold the audience engagement and risk of losing your customers.
Consider the customers as real people as you are one of them so that they can deliver better communication.
If you push the script like the content, then no one cares about it, and the audience wants you to address them specifically that boost customer loyalty.
The customer service you provide now will be treated for many years as the people discuss their experiences, brand, etc. in COVID-19. Hence, it is necessary to deliver the best customer service.
Keep an eye on tracking and monitoring the competitor's activity, then find their best doing business approaches and follow similar methods.
Get in touch with soft-selling, which is less effective but not worthless as during crisis, the priority of customers changes.
Instead of pushing emails, make use of social media channels, and promote the content that let them find you anywhere.
Being consistent and maintaining proper communication with the audience is essential, where the surrounding of it can be altered timely.
As the audience consumer, more online content showcases your brand by offering resources that customers required can put your business on the top list after this crisis.
Create the landing page innovatively to explain your business methods to your audience how can you do effective crisis management, especially for your business.
People are spending more on social media platforms than before, work from home, and online learning can make your business find more ways to reach plenty of audiences. Put your efforts on social media marketing.
Ramp through social media paid advertising mainly on Facebook, YouTube, and Instagram, etc. that can bring all together during social distancing.
Take off your offline services to online and inherit the ways to deliver the products to customer doors and find your website sales.
Make influencer marketing overwhelming by avoiding flooding of promotions and dispatch the humanized messages that resonate at all audiences that are relevant to the current situation.
Video plays a vital role in brand storytelling and makes use of Instagram Live feature to reach the audience directly through content delivery.
Implement the Amazon Influencer campaign if you are already on the use of this service to sell products or services. Amazon drives audience traffic directly to its website as the most trusted online retailer.
Provide offers for your subscriptions, and this helps in gaining the long-term customer relationship.
Generating high intent website traffic is crucial during this time of uncertainty. Advertisers should be monitoring their website's Organic rankings and identifying middle to bottom-funnel keywords with high search volume to ensure they are aggressively targeted across Paid Search.
Monitoring the business website organic search traffic essential for the advertisers to find they are driving better results through paid search marketing.
Let the visitors find what you are about by displaying your business message on the website.
The tone of your business voice should not reflect on elevating the other's suffering and should not let your business go ignorantly.
Make your clients get updated information on how you are going to manage them to find better lives.
Provide free online webinars, especially in the place of face-to-face presentations or for learning courses.
Execute the online chatbot that let the buyers and website searches can find the answers quickly.
Upload comprehensive online FAQs on your website that are relevant to your site with high-speed search functions.
Develop the online scheduling app to build virtual meetings.
Offer plenty of products and services to the customers that deepen customer relationships.
Intimate your clients and subscribers regarding the company's new marketing strategies and measurements against COVID-19.
Rethink of new exciting marketing strategies by taking the advice of local authorities that are relevant to your business.
Offer online products or services at a lower cost than regular as people can afford more during the COVID-19 crisis.
Show your clients that you support them during this type of situation, and this can find a high impact after the crisis.
Launch the most effective email campaigns that let the audience to become subscribers through potential signups.
Let the audience know your canceled and updated company events.
Make the clients or audience remotely access the company services.
Repurpose the content that you have in the stockpile and roll out on all trending social media channels. This can lessen your investment.
Donate something like money or things to the organizations that they are really in need of it and let the public know your helping hand during the crisis, and this can touch the audience emotionally.
Develop the programmatic data visualization technologies or tools to help the Government in making an in-depth analysis of present COVID-19 pandemic.
Chill your homestay audience by providing free online courses that they are looking for.
Conclusion
Don't exhaust your brand reputation through over promotion strategies. Be straightforward and get more that genuinely builds user engagement with customer loyalty.