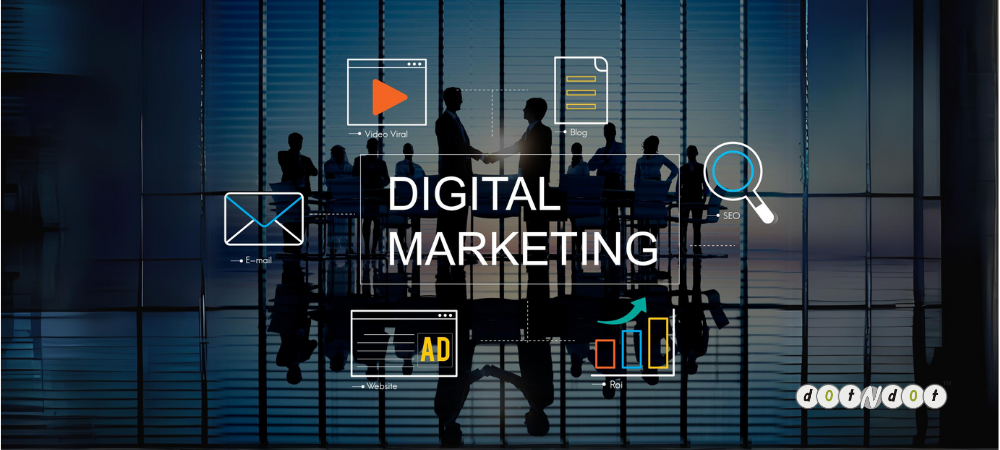 The ultimate guide to dominating Digital Marketing in 2019 using these Digital Marketing Trends and predictions.
Let us tell the story about Digital Marketing in 2019:
This article is not just from stats; it is a prediction article.
Some Digital Marketing Strategies in 2018 is working well, but some current strategies will not work on "Digital Marketing in 2019."
So if you want to implement "Digital Marketing Trends" in 2019 for your brand, you will like this ultimate guide.
Let's check it out.
Current State of Digital Marketing in 2019
What are the Changes we can expect in "Digital Marketing in 2019."
Did you know?
US digital ad spending will reach 72%, especially for Mobile advertising.
Future Predictions of Digital Marketing in 2019
Virtual Reality Marketing
Programmatic and Retargeting Digital Advertising
Chatbot Marketing
Digital Transformation
Mobile and smartphone usage growth
Integrating marketing with offline stores
Personalized Marketing and Mass personalization
Machine learning and marketing automation using Big Data
Integrating Social Messaging Apps
Combining different sources of data
SEO and In-depth Content Marketing
Augmented Reality in marketing
Micro-moments
Influencer Marketing and Micro-Influencer Marketing
Internet of Things (IoT) Marketing Apps and Platforms
Affiliate and co-marketing
Social Video Advertising
Voice Search and voice search platforms, tools
Live Chat and Live Video Marketing
More Targetted Local Advertising
Let's Jump into Digital Marketing Trends 2018
The expectation for companies to provide a complete user experience to produce effective competitiveness is growing. Here are some critical trends in communication, data, and efficient process which will give you awareness in companies' marketing until 2019.
Digital Marketing is the most haunted marketing source for all the publishers and marketers to explore their branding capabilities by clutching the millions of customers that never obtained through traditional marketing. Now all the advertisers and marketers are becoming bugs to dig the most advanced and viral trends that give the ultimate marketing and advertising experience in promoting products or services.
What will be on the stack of trending to expand the digital marketing strategy?
Do you think digital marketing trends will ruin traditional marketing completely?
Did you know?
The websites have 4.8% average conversion rate through video.
Customer Experience:
Customer experience is already driving digital marketing. Companies must rethink their customer experience to remain attractive while facing a significant disturbance in the industry.
Accenture Interactive's Fjord Trends 10th edition synthesizes the new strategies to target customers: shorter content, more personalized and instantaneous, like Video or infographics, are favored.
Content Marketing:
In 2018, content marketing will matter the most for B2B or B2C marketers, whatever organization or budget.
Mass Personalization:
To develop customized targeting strategies with artificial intelligence algorithms, it will collect the maximum customer behavior data and analyze it to reach Digital Marketing Trends. The enormous amount of data collected from social networks, online purchases, mobile app downloads, or CMS can now be examined through Big Data technologies.
Conversion Optimisation Rate:
According to 2018's marketing strategy, increasing the Conversation Optimization Rate (CRO) growth means increasing the percentage of users converting into customers through the website. It is similar to search engine optimization to grow in organic search and improve in turning sites.
Cross-devices Marketing:
Cross-device marketing is an efficient approach to programmatic advertising. Marketers can identify consumers' devices to reach, Equipped with a device graph, engage, and measure each interaction with their desired customer.
Did you know?
Above 80% of marketers are going ahead with influencer marketing campaigns.
Data-driven Marketing:
It forms predictions from extensive data analysis collected through consumer interactions and engagements. It is more efficient media buying and focusing on targeting the right consumers.
Corporate Blogging:
It is used to create a new relationship with the audience. Optimizing organic search, building a community, set up a participative dialogue with suspects, prospects, and customers are the benefits promised by Corporate blogging.
It supports an inbound marketing strategy; a corporate blog becomes essential to drive traffic to the website and engage potential customers.
Content Marketing Automation:
Once the content is created, there is only left to address it to the right audience at the right time! Besides the total efficiency gain, it will help reach and retain a community gathered around regular appointments for each persona and set your company as an expert on your themes.
Social Selling:
Social selling is a new B2B approach built on listening and exchanging best practices. LinkedIn is responsible for social sales and remains the number one professional social network.
The relevance of interactions to transform the buyer-seller relationship and to improve the sales approach has been generating leads through the LinkedIn Sales Navigator integrated solution.
Did you know?
LinkedIn is the major medium for 94% of B2B marketers to explore content strategy.
Chatbots:
Chatbots are the perfect example of a marketing automation solution impacting the business in 2018. To enable humans to focus on customer operations holding high added value in symbiosis with customer expectations and automate repetitive tasks by Chatbots.
Machine Learning:
Machine learning is more accurate in predicting outcomes without being explicitly programmed, and it is a type of artificial Intelligence (AI).
Micro-Moments:
It has a significant rise in micro-moments, with more people making on-the-spot decisions than ever before. The BBC's mobile site displays a navigation bar where categories are arranged according to personal importance and are developed to precisely fit the user's screen.
Video Advertising:
Video advertising will prove fruitful for brands or businesses looking to market their products or services. With the younger demographic viewing more Videos on a broader range of devices than ever before, in 2018. A format that YouTube recently began offering advertisers like Facebook plans to do.
Big Data Integration:
Big data has significant significance on various digital marketing cultures, viz. native marketing, segment marketing, etc., and further its implementation into current marketing strategies is entirely different. However, significant data marketing applications include predictive analytics, market, and customer insights.
In-Store Marketing Campaigns:
An in-store marketing campaign can run with successful marketing campaigns and need a team of talented staff. The staff must have a skill set in analytics, brick-and-mortar promotions, traditional marketing, mobile, and location technology. It allows marketers to make better decisions for their business growth.
Promotion via Native Ads:
Native ads are the most effective marketing method if you want everyday sight exposure in front of your target audience. It is to promote a brand's new offers in a non-disruptive way. It always tries to reach audiences' targets only and provide the correct information at the right time. Also, it has a better engagement rate.
Did you know?
Native ads have been watched more than 53% of banner ads.
Invest in Social Marketing: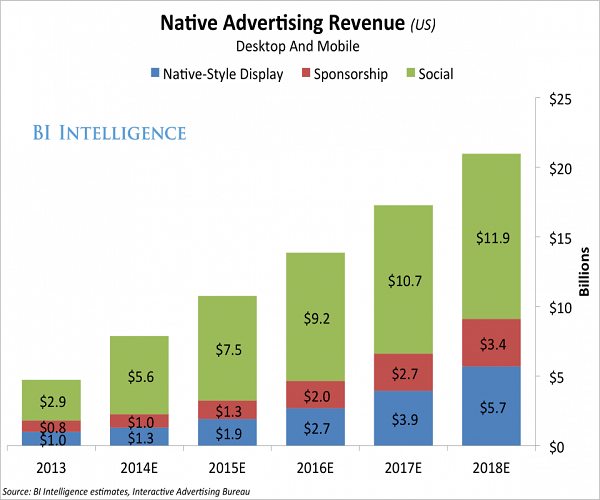 Image Source: BI INTELLIGENCE
It takes away low investment. It has a high ROI approach and increased engagement on social media with more traffic. Its key benefit is the gentle approach to lead generation.
The social media platform is the one that takes information from you and prevails this information among thousands of people in a few seconds. Facebook's News Feed is an example adopted by almost every business today for generating sound revenue.
Video Marketing for better Visualization:
A video is a critical element of video marketing. High-quality content video is the demand for the future now. It has essential benefits like increased engagement with traffic. It has a large number of real-time video views and helps in promoting your brand.
Influencer marketing:
Transforming potential customers into active influencers always seems challenging to marketers. It is offering the right solutions to your customers that genuinely understand and uniquely solve their problems to ensure proper influencers.
Did you know?
60% of online users prefer voice search.
Surely make them a more loyal brand. First, benefit them and fulfill all their needs to benefit from your influencers. It has adequate brand recognition and valid brand promotion with high ROI.
Visual search:
Visual search offers more opportunities to provide target audiences with relevant information in the real world. The Visual search Google Lens is Google's future. It is used to form an in-house task force that jointly monitors the further development of Google Lens to leverage this potential.
Connected Customer Data:
Marketers collect all kinds of customer data. You will be able to understand customer journeys better and thus optimize targeting methods, personalize marketing initiatives, and make the customer experience more meaningful and convenient.
Regulation is Coming:
Legislators and regulators are entering the stage. You should become involved and ensure that your Voice is heard as a critical stakeholder. That means you need to know precisely what data you collect and why you receive it. Also, keep an eye on industry bodies and collaborate with them.
Did you know?
Online advertising reaches 12.9% in the coming year.
AdChain:
Bitcoin-based on blockchain technology, always remember that blockchain is about much more than cryptocurrencies. Axa accesses flight information through a blockchain.
Digital marketing technology is on the rise to global acceptance and experience, and the scope for different brands to engage and interact with their target market is boundless now. The intention is to be more active than when
Artificial Intelligence(AI) & Behavioral Marketing:
Artificial Intelligence is a computer science machine language that can imitate human beings' intelligence behavior. Behavioral marketing is a process of web marketing where marketers use the client's information and send the message if they are interested. This behavioral marketing uses IP addresses, WEB analytics, search history, and computer apps and collects data from the profiles.
Influencer Marketing:
Influencer marketing drove the brand message to a more significant market using the key leaders. It is one type of Word of mouth marketing to convey brand messages. It includes identifying and engaging in a means to support them in creating a high impact among people by revealing the customer's products and services.
New Kind of ads for Ad-Blocking Technology:
Ad-blocking technology is a new technology used to prevent ads on your browsers. We can add extensions like AdBlock or Adblock Plus to the browsers like Google Chrome and Mozilla Firefox. We have a new kind of dedicated AdBlock for mobile devices also. Ad Blocking speeds up the browser speed and eliminates all types of unwanted ads displaying on the browser. It allows a pleasant environment for the user can only focus on the work environment.
Live Video Usage Continue to Soar:
One of the most exciting and interactive Live Video usages through digital mediums has risen drastically. Live video users can pay the amount for the On-Demand views. But we have several live video streaming channels and supporting apps for free live broadcasting. Facebook Live Video, YouTube Live Events, Periscope, and some mobile apps provide the audience with free services. More than 78% of people use Facebook Live Video, and video quality is crucial in any Live Video streaming and watching.
Mobile Video Consumption Increases:
There is rapid growth in both mobile video consumption and mobile device buying. Marketers spent mobile video consumption push-ups and mobile video ads. Almost half of the video viewing happens on mobile devices, and the remaining goes to Tablets, PCs, and significant screen devices. Video consumption through mobile devices pushes developers to develop the method with excellent video quality, screen resolution, and vital screen devices and to provide a user-friendly interface.
Customer Experience Marketing:
Customer experience is critical to marketers and puts the customer in the front row by applying marketing strategies. The primary goal of Customer experience marketing is to engage with the customer to know their experiences, needs, and thinking from the customer's point of view for better growth in their selling their products and services. One of the types of personalized video ads was spending. Customer experience, including increasing trust, provides excellent satisfaction to raise brand awareness, which is essential in Digital Marketing Trends.
Voice Searches:
Voice searches and voice assistants are leading in digital advertising. Apple first introduced Siri for the Voice search for iPhone 4S in 201, followed by Amazon voice search devices and Google Voice search. Voice assistant has become more advantageous to marketers; if you use them correctly, voice searches are the communication mediums for the consumer and the brand. Amazon introduced Alexa, Echo, Achoshow, and Echo Dot.
Voice Search is now trending in the Digital marketing world. Forecast marketing revealed that by 2020, 50% of the search would be voice searches in search marketing.
Search marketing is emerging in all smart devices and mobile phones. It is easy to use, hands-free, and convenient to use.
The rise and rise of smart devices. Also, AI-integrated intelligent home devices' voice searches dominate business campaigns and follow down on SEO marketing.
As a marketer, it is the right time to incorporate Voice search. As a part of the SEO-friendly strategy for promotions. It is necessary to introduce long-tail keywords and individual pages for FAQ sections to provide answers to Voice search-based queries.
Alexa or Google Home are the best examples of Voice search devices. According to statistics, 64 million voice-based devices will be in offices and homes in the US by 2019.
Advertising on TV:
The best advantage of advertising on TV is starting to communicate with a large audience. It can grab the attention of the audience and start discussing with consumers. If you go for cable advertising, it goes to the Geographic area with a low budget. Television networks provide vast entertainment collections. Viewing ads on TV has become traditional and reaches a vastmanynces.
Big Data Marketing:
Big Data is the collection of a massive amount of data from business processes and customers, which can reveal beneficial patterns and trends to bring considerable improvements to the company. Big Data Marketing is a new technology used to implement marketing strategies. The factors like Variability, Velocity, Volume, Variety, and complexity involves in BigData marketing.
Hyperlocal Marketing:
Hyperlocal Marketing is a specific geographical area or location based on a highly targeted digital medium. Hyperlocal marketing is targeting a particular geographic area by surrounding 50 meters area. The primary goal of hyperlocal marketing has increased the ability to purchase where the consumers are already shopping, showing nearby places.
Digital Transformation:
Digital transformation involves information technology in the business in the process of business activities, competitions, changes in the market, changing company information, and approaching customers.
VR and AR in marketing:
The modern advertising industry ultimately relies on VR and AR concepts to promote the business brand by giving an immersive experience to the audiences. Most trending social media platforms like YouTube are stepping ahead to immerse viewers in the VR and AR world.
Customer engagement strategy and Lifecycle:
The customer engagement lifecycle will define the customers' better buying and selling capabilities by tracking the conversion, reach, loyalty, etc. It can be possible through optimization strategies that build long-lasting customer relationships.
Integrating social messaging apps:
It is the most sought concept in digital marketing. The companies are making amendments to integrate their social messaging apps through which the brand can reach targeted customers through personal and direct interaction.
We all know that digital marketing trends are steadily changing. List of some predictions on digital marketing trends in 2019, but can't be sure. Here are the leading digital marketing trends in 2019.
Digital marketing is evolving by every minute with brand-new technologies. In 2018 digital marketing changed its landscape drastically. Recent innovative changes in algorithms across all marketing channels, especially with the acceleration of voice search and AI marketing.
Chatbots
With the help of Machine learning, AI, and Automation technologies, work is done more accurately and faster. But it doesn't do your job automatically; you need some human boost up to push buttons.
In 2019, digital marketing campaigns wholly relied on chatbots. These small bots do your job more efficiently and faster. Nowadays, customers are more comfortable talking with intelligent devices or non-humans.
Chatbots are refurbishing the online experience. From the survey of adults aged 18-64, more than 70% of the people are attentive to talking with chatbots for sophisticated communication with brands.
85% of customer interaction will be dealt with Chatbots by 2020. These will be progressive for everyday demands like online orders, booking hotels and tickets, and getting reviews of products.
Chatbots are acknowledged for open communication routes between you and your customer 24×7 and 365 days a. Many companies are incorporating Chatbots for efficient and fast customer service with minimal time for B2B and C2B communication.
Mobile Marketing
The power of mobile technologies overreaching all digital marketing trends. Mobile Marketing should be at the forefront of digital media strategies in 2019. Mobile marketing is only possible when your website should be responsible for SEO-friendly marketing.
In early 2018, Google launched mobile-first indexing. From that time, search engines will increasingly index responsive and mobile-friendly versions. That means mobile-friendly content will be more recognizable on search engines.
More than 34% of online purchases are acknowledged from mobile devices. However, personalized mobile ads, mobile-first content, and sending cross-mobile messaging are vital ingredients in mobile marketing.
Offline purchase also has more impact on mobile marketing. Moreover, 82% of people check on mobiles before making an online purchase. Therefore, 72% of offline sales come from mobile searches.
Native Ads
Native ads are social media ads formally displayed as posts and streamed as updates to users' timelines.
These ads are displayed on social media in the form of Facebook, Instagram, Snapchat, and Twitter ads.
Perhaps, that leads to more engagement to connect with the audience to convert customers to conversions.
These native ads enhance your customer engagement, click-through rate, and conversions.
Video Marketing
Video Marketing is the fastest growing and provides new opportunities to assist audience engagement.
More than 81% of marketers use Video in their marketing campaigns.
Above 72% of marketers say that Video marketing has increased their conversion rate.
Consumers revealed they shared 70% of brand videos for promotions. They watch product videos to enhance their confidence level in buying the product.
Coming to video trends, Live Video is also gaining more popularity among businesses that are implementing Video trends in their campaigns.
Many businesses involve live videos in their strategies for Events promotions, Interviews, product demonstrations, and behind-the-scenes.
Other than YouTube, Live Videos, 360-degree content is more interactive with the consumers. Video SEO is also gaining more popularity in video marketing.
Content Cluster
Stay top in the competitive world; Quality content remains incredibly significant in content marketing. Every content marketer should be aware of content trends up to the minute.
Long-form content, voice search, and visual content is leading in content marketing in 2019.
Constant changes in Google search algorithms, instead of focusing on keywords, pay attention to content clusters around a particular topic.
In a content cluster, pillars, bunch, and hyperlinks play a vital role. Components and sets are interrelated with hyperlinks. If one page performs well, the entire group will get bootup.
Artificial Intelligence
Artificial Intelligence notifies the consumer's behavior to help businesses. That is how curious users about their products and services adopt social media apps and blog posts.
We can choose the Facebook Messenger bot as the best example. It will help to automate and optimize the customer service experience.
By 2020, 25% of the customer service will make by Chatbot technology by Gartner.
It's a prediction that all businesses in 2019 will adopt Artificial Intelligence. As a result, they save costs and enhance the conversion rate to stay ahead of their competitors.
Influencer Marketing
Influencer marketing brought incredible changes to brands.
Influencer marketing promotes your brands through Word of mouth, notably through a third-party influencer.
Rather than marketing directly to a significant number of consumers, focus on key leaders to drive the brand message to the larger group.
Influencer marketing tools can attract more customers through the influence of celebrities and bloggers through social media channels like Instagram, Facebook, and Twitter as a word of mouth marketing. Generally, people trust the consumer's review rather than corporate ads and statements.
Transparency
Continue Honesty and Transparency with the clients or consumers. It was a significant trend in 2019. Nowadays, Brands no longer rely on labels or names to sell products.
The Young generations want to know all the product details they purchase. At the same time, knowing where they are coming from.
Transparency in business has become an era of digital marketing trends. Communicating with clients should be honest in brand campaigns.
Many companies have already incorporated transparency into their digital marketing strategies.
Conclusion
The trends, as mentioned above, will define the impact of digital marketing on the global market. All these are presently rolling as the most important ones. Along with these, some more trends will come to drive digital marketing as the lead of the whole global market by completely vanishing the traditional approaches.
These are the sprinkling digital marketing trends we saw leading in 2018, and we believe we will continue 2019 to change the digital marketing landscape. Keep all these trends in mind while implementing digital marketing strategies in 2019.