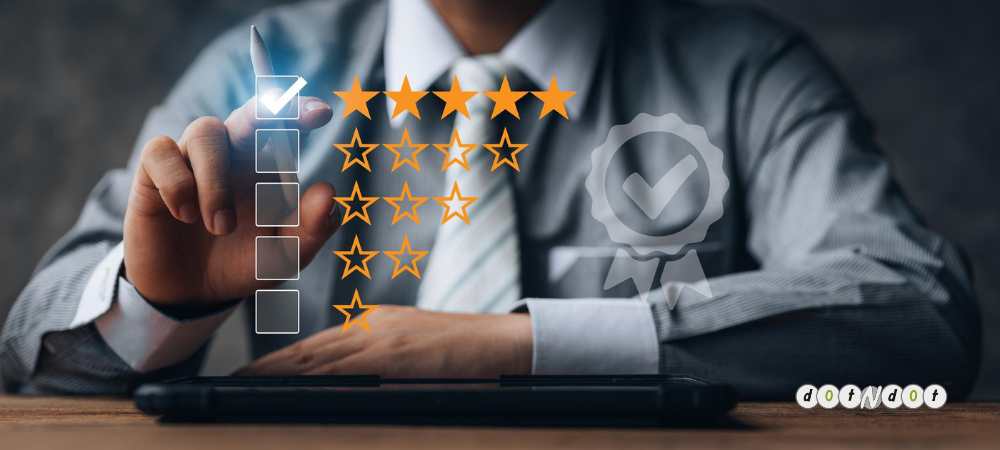 We all know how significant the online reputation for any business is. It may be a positive or negative reputation that can build the marketing kingdom or ruin it. At the same, it is more difficult for businesses to reach the client or customer expectations as all are not the same mindset. Here is the list of online reputation management statistics that can be considered as reviews to help you understand why you must consider reputation first.
Online Reputation Management Statistics
85% of customers believe brands depend on online reviews just as personal recommendations.
49% of customers look for a 4-star rating before buying a product or service.
Customers read seven reviews on average before buying products from any business.
74% of customers show more interest in brands having more positive reviews.
1 to 2-star reviews fail to make 86% of prospective customer conversions.
95% of business brands are using social media for the recruiting process.
73% of companies believe LinkedIn is the most effective job portal for finding highly qualified leads.
The customers mention business brands an average of 90 times per week.
71% of customers are likelier to purchase the brands that respond to the existing reviews.
40% of consumers get a response from the companies after leaving the review.
25% of consumers wrote negative reviews, and 66% for positive reviews about the bands.
68% of customers question the authenticity of reviews about the businesses.
53% of consumers prefer a business that has less than 4-star reviews.
58% of customers prefer local businesses based on reviews where the recency of thoughts is most significant.
Between 18 to 34 age, customers spend 33% more time reading online reviews than the average person.
Before buying any product or service, the customers spend 13 minutes and 45 seconds reading reviews.
77% of customers consider that reviews that are older than three months are irrelevant.
The consumer reviews on Google search show 7% of the influence on the search ranking of businesses.
74% of people contact businesses after seeing customer reviews of their websites.
Google controls 77.98% of the search traffic on desktops, whereas Bing at 7.81%.
60% of customers say that negative reviews about the brands turn them away.
Wikipedia ranks top on the front page of Google for more than 50% of all keywords.
Marketers who prefer blogging receive 13 X more positive Return on Investment (ROI).
58% of business executives believe in addressing Online Reputation Management, but only 15% do anything.
84% of marketers say that building trust is the primary aspect for marketers in the future.
78% of consumers trust brands on peer recommendations and only 14% trust advertising.
41%of business brands with a negative reputation will impact brand value and revenue loss.
86% of consumers pay for business brands having more reviews and ratings.
80%of college admission offices are in use Facebook for applicants.
50% of potential sales of businesses are lost as the customers cannot find the information they need.
Due to poor customer service, 89% of customers stopped purchasing from online stores.
17% of customers recommend brands though it provides slow services but effective solutions.
To make buying decisions, 74% of customers depend on social media.
61% of customers have a reasonable opinion about brands when they provide an excellent mobile experience.
The mismatch between reality and buzz creates 80% of brand damage.
On Google, more than 1 Billion brand keywords are searched per day.
8 out of 10 online users in the U.S. say that negative online information will let them change their minds while making buying decisions.
90% of consumers look at the 1st page of the search engine to form an impression.
Google plays a vital role in controlling 92%of search traffic.
51% of businesses say that unsubstantial negative reviews are damaging their brand.
1 in 3 businesses says that harmful content shows a significant impact on damaging their brand.
70% of customers avoid buying products or services from the company if they don't like them.
46% of business brands are worried or damaged by negative press coverage.
31% of companies consider that negative social media posts project a higher reputation threat.
The damaging content costs 1 in 20 U.K. businesses more than £500,000.
97% of customers are searching online for local businesses.
87% of customers look for comparison shops for each purchase they make.
70% of employees are in using social media to screen candidates.
40% of customers consider the reviews if they are written within two weeks.
Due to lack of time, 50% of local marketers can't make effective strategies for online reputation.
Conclusion
Instead of launching massive ad campaigns, let your customers find a better buying experience at your brands. The campaign buzz can create a contemporary reputation, but authentic customer service can build a long-lasting brand reputation and real-time sales.