Hosting live webinars is the #1 way to improve the business's growth, which can be used to increase the conversion rate. In the same way, choosing the right and relevant webinar tools for developing your business is too difficult nowadays, from the million options. Here we have listed the top Live Online Webinar Software that every business should need to focus on.
Best Live Online Webinar Software Platforms
Webinar Software Platform: Demio
Businesses can use Demio to find a simple and no-download webinar experience for their audience or clients. Its marketing tools can generate better results in getting quality leads and potential customers.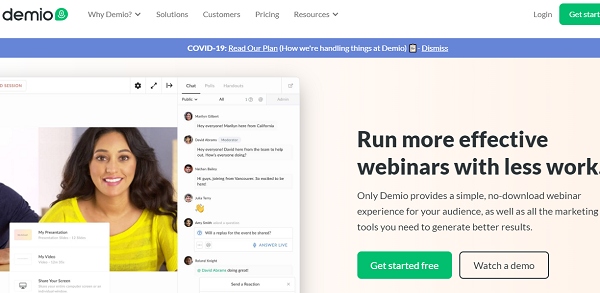 Webinar Software Platform: WebinarNinja
It is easy to use an all-in-one webinar marketing channel. The conversion-focused software can be used to make the sales of the tech, market, product, and sales over webinars. It provides advanced marketing tools that help to engage your audience by concentrating on social media platforms.
Webinar Software Platform: JetWebinar
It is one of the best webinar platforms that host simulated and real-time live webinars. This software provides training solutions and corporate meeting features that help drive higher engagement and improve the attendee rate. Moreover, it is a cloud-based channel where businesses can access the immersive and interactive interface.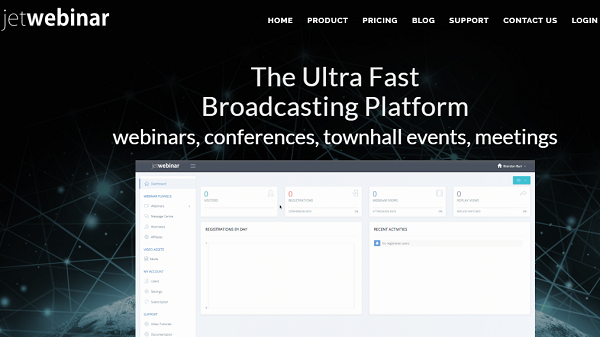 Webinar Software Platform: GoToWebinar
GoToWebinar is helping businesses create and launch online video conferences, clients, customers, etc. It is a full-packed tool for companies and business professionals looking to reach the target audience.
Moreover, it also provides online training, audio conferences, and speaking engagements.
Webinar Software Platform: WebEx
Cisco WebEx is the most robust video conference platform that can be easily accessed and offers the comprehensive features you seek.
Entrepreneurs can use it effectively to gain complete video conferencing solutions, and it is the most expensive channel to use.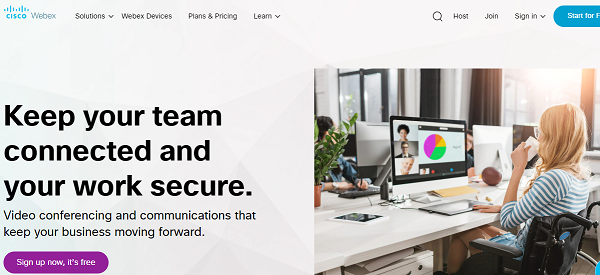 Webinar Software Platform: ClickMeeting
Any size organization can use this browser-based webinar platform to launch valuable webinars. It is simple to handle that includes preparations for presentations to follow-ups. It can be used in all components and operating systems.
Webinar Software Platform: Livestream
This platform can be used to broadcast to the audience without measuring audience volume. It offers features that help stream your executive communications, training, panels, town halls, etc.,
Webinar Software Platform: Webinars OnAir
Any business can showcase its brand's products or services to the customers by providing an immersive visual experience to the audience using the excellent webinar platform Webinars OnAir.
You can get impressive features like surveys, polls, email reminders, interactive chat, customized templates, and interactive chat options.
Webinar Software Platform: Zoom
Zoom is the most secure video conferencing app that lets users host meetings with complete protection. During this Covid-19 pandemic, most small- to large-scale users use Zoom for business purposes. This helps in providing the virtual experience to the participants over this app.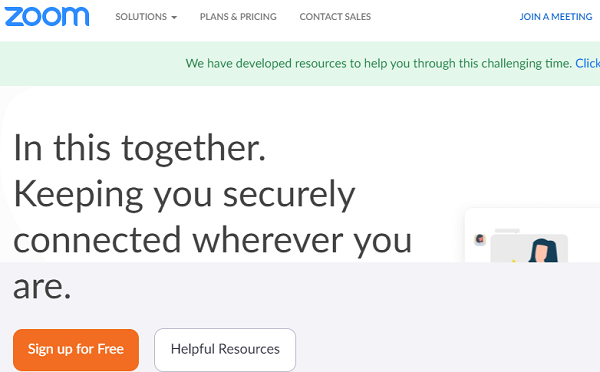 Webinar Software Platform: Livestorm
It is the #1 live video conferencing software that can be used by all companies without concern about their employment size, primarily to manage the business in obtaining the growth of their performance. It is established depending on the VP of sales, customer success manager, and CMOS feedback.
Webinar Software Platform: ClickMeeting
If you are intended to find the best video conferencing software, then ClickMeeting is the only solution. This is the one that offers effective analytics for the webinars you launch. Moreover, with 25 participants, anyone can use this software to tackle daily meetings.
Webinar Software Platform: EverWebinar
The unique feature you can find through this fantastic platform is pre-recording the webinars that give the experience of live webinars. Furthermore, it provides a scheduling system, which can choose specific days, weeks, and time zones by selecting which works best to attract the audience.
Webinar Software Platform: Fuze
It is a cloud-based communication channel that helps empower productivity and generate comprehensive insights into enterprises by evaluating business voice communications and the most flexible video conferencing feature.
Webinar Software Platform: ON24 Webcast Elite
The motive of ON24 Webcast Elite is to refurbish the organizations engaged with the massive audience by enriching content, data, and interactions through live webinars.
Moreover, marketers can create live, personalized, and on-demand engagement by integrating it into business operations.
Webinar Software Platform: Skype Video Meetings
Skype is one of the trending video conferencing tools for businesses that can be accessed easily. Free video chatting and communication features make Skype more popular globally. Also, it offers branded and inexpensive solutions over VoIP services.
Webinar Software Platform: Vimeo Livestream
Vimeo Livestream is the live Streaming, editing, and production solution which serves business brands by providing lead capture, real-time analytics, and audience interaction.
Additionally, you can live to stream your business events across social media platforms, embed them on your website, and let your audience tune in to your live Streaming from anywhere they are.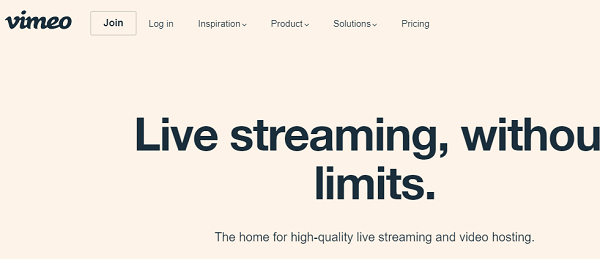 Webinar Software Platform: MegaMeeting
The intention of arriving the MegaMeeting in the market is to provide the ultimate audio and video conferencing services in the form of web simple within an affordable user budget.
Webinar Software Platform: BigMarker
Who is looking for high-quality webinar software within an affordable budget to share knowledge or business operations with clients or customers online? The only solution is to adopt the BigMarker live webinar software.
The exciting feature it provides to the users is that anyone can easily stream on trending social media platforms like YouTube, Facebook, and your business website.
Webinar Software Platform: Adobe Connect
Adobe Connect is an excellent video conferencing app that can be accessed easily with the most exciting features where one should use VoIP and third-party audio dial-in service.
While using this tool, any business can attain features like video chat and document sharing and enable the users to add customized apps when they have experience using Adobe Flash.
Webinar Software Platform: AnyMeeting
Small to midsized business brands can use this tool over all industrial operations, including professional, healthcare, real estate, and financial services.
This is an expert in performing the remote workforce. The all-in-one featured web conferencing, video conferencing, webinar, and online meeting software can be used.
Moreover, it can be installed on mobile and desktop devices by building reliability and free meeting options.
Webinar Software Platform: GoogleMeet
Google Meet is the #1 video conferencing software application that allows businesses of all sizes to use it for business meetings. Through this app, the business brands can pre-schedule the sessions by using calendar events, choosing the link, dialing from the mobiles when the invitation contains the phone number, and entering the meeting code.
Integrating Google Meet with the G Suite version of Gmail and Google Calendar displays the complete list of participants and enables you to schedule meetings.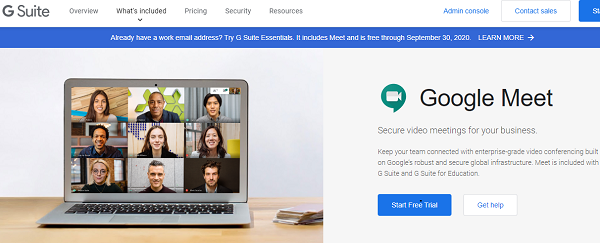 Webinar Software Platform: Microsoft Teams
It also offers full-packed video conferencing features, including screen sharing, live captions, chat operations, background blur, call recording, etc.
When businesses integrate with Microsoft 365, they become the leader in the digital workspace and video conferencing. This software can be accessed from anywhere to make calls.
Webinar Software Platform: Blackboard Collaborate
This online collaboration tool can be used as a single-click virtual room where businesses must engage clients or customers through a flexible and personalized video conferencing approach.
Moreover, the learner board enables the institutions to offer a virtual experience that lets the students know they are not in the physical classroom.
Webinar Software Platform: RingCentral Meetings
It is the cloud video conferencing tool through which businesses can find HD video conferencing, web meetings, and mobility. The companies can get the full video conference service, and we share a comprehensive business solution over communication.
But using this, one can conduct the face to face meetings with HD quality and share on desktops and documents from anywhere, anytime, and with anyone.
Webinar Software Platform: BrightTALK
The business brands can launch unlimited videos and webinars in HTML5 players, enabling users to embed anywhere. It is an on-demand and one-time registration platform through which you can find millions of leads, and marketers can grow the conversion rate from 60 to 90%.
Webinar Software Platform: GlobalMeet Webinar
It is a live video streaming and webcasting tool for enterprises and Fortune 500 companies. It is easy to use scalable, secured, cloud-based SaaS webcasting business solution through which anyone can build the high-profile and most engaging webinars and webcasts with thousands of global attendees.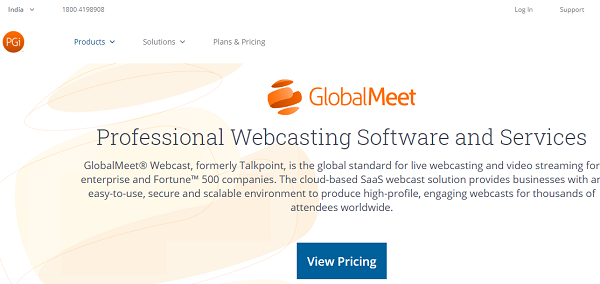 Webinar Software Platform: WorkCast Present+
It enables users to launch email campaigns and establish webinars. You can promote your business webinars by using several templates provided by it.
Moreover, anyone can hold the attendee's information as the integration of CRM and add future marketing campaigns.
Webinar Software Platform: Webinato
Webinato enables businesses to launch webinars for sales, marketing, and training by accessing the cloud-based video conferencing technology everyone is looking for.
This can be used to build live, pre-recorded webinar sessions and engage the attendees with the help of Q&A tools, polls, online surveys, meeting notes, etc.
Webinar Software Platform: Webinar Ignition
It is one of the trending webinar software that can be used to create video webinars to convert prospects into buyers.
It provides the feature of creating the registration, webinar replaying pages with several templates and confirmation, etc.
Webinar Software Platform: Crowdcast
It is easy to use, and most audiences are engaging in live streaming service providers in the market. We can create interactive webinars, online summits, workshops, and live Q&A with this browser-based solution that can be used to measure our requirements.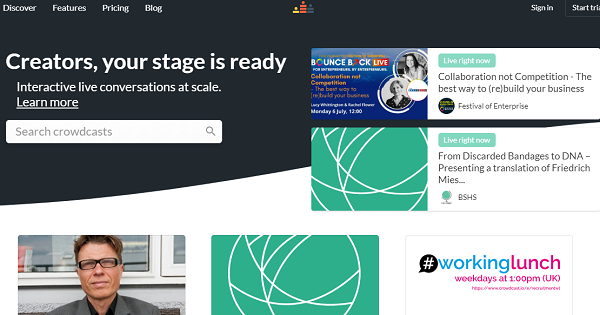 Webinar Software Platform: Kajabi
Content marketing platforms enable users to adopt easy-to-sell online content. You can turn your content into digital products as the sales platform to showcase your digital products to get paid.
It is, moreover, landing pages that help in the growth of the business. Also, companies can create business events where they can find a community of relevant audiences and find sales conversions.
Webinar Software Platform: DaCast
The online video channel includes the full Streaming as a Service approach. It provides features like HD live Streaming and on-demand video hosting, most securely using cloud-computing technology.
Webinar Software Platform: Zoho Webinars
Zoho Meeting is the most affordable and simple online video and conferencing tool that helps in enhancing the business by using screen-sharing, audio conferencing, and video conferencing features.
From small-scale to large-scale, businesses can host feature demonstrations, user education webinars, lead-nurturing webinars, sales presentations, online meetings, and product launches. From anywherebinar Software Platf Instagram Live (IG TV)
Instagram Live is the trending and most engaging feature of Instagram Stories that enables users to launch video streaming and engage their audience and followers in real-time. When the user starts live streaattractiveInstagram Stories, it no. It's the folks about it to s watching.
Webinar Software Platform: Facebook Live
Facebook Livereal time pen-source webinar tool offered by Facebook over the app. Almost every family carries a Facebook account these days.
The live Streaming launch across Facebook Lcan establishes higher customer relations with followers and friends, enabling them to know more about your products or services.
Webinar Software Platform: YouTube Live
YouTube Live is a free webinar servirelations. Any bees can host the webinars., Most of the market webinar tools use YouTube in the background. This tool allows publishing after the live Streaming.
Webinar Software form: Webinar Jam
The most trending mmm market webinar tools use launch live webinars by co-publishing and monitoring the participants in your live webinars by assigning password-protection webinar rooms.
Webinar Software Platform: Livestorm
The easy-to-use webinar software allows up to 1000 participants in the webinar, depending on the plan you adopt. The free webinar feature of it can also be accessed but with limited features. The Livestorm offers polls, Q&A, and chat, options that help engage your audience.
Webinar Software Platform: EasyWebinar
It is the all-in-one communication solution for establishing automated and live webinars. Excellent features like multi-presenter, integration of shopping carts, lead generation, email marketing, etc., can be accessed by using this tool.
Webinar Software Platform: GetResponse
It is an email marketing platform that includes comprehensive webinar marketing business solutions. Just win in 3 minutes or less, the users can build the webinars and provide automated email marketing, list segmentation, autoresponders, landing pages, etc.
Webinar Software Platform: Periscope Live
With a few taps, the users can launch video streaming using Periscope. It offers a simple face, which excites your audience to watch your live Streaming, which is la inked with the present business world.
Webinar Softw Platform: Join. Me
It is a webinar collaboration tool designed to help teams, companies, and individuals by cutting the cards of the protocols, politics, and processes for the collaboration to be simple, instant, and continuous. Its schedule lets you launch the meetings in advance and use Google Calendar and Outlook directly.
Webinar Software Platform: Mikogo
It is the most innovative, easy-to-use, powerful, and intuitive webinar. We can also find an excellent free screen-sharing service that offers web conferences, online presentations, meetings, remote support sessions, etc.
Webinar Software Platform: GoToMeeting
It is one of the best trending platforms for launching the most creative and attendee engagement webinars. Moreover, it offers rich features that help connect with anyone from any device that projects the most successful online presentations.
Webinar Software Platform: Ekiga
It is an open-source webinar platform with features like free video conferencing, softphone, applications of instant messenger, etc., that are user-friendly. The Linux and Windows platform users can get the VoIP softphone application that offers seamless Session Initiation Protocol communication.
Webinar Software Platform: OpenMeetings
It is an open-source webinar Apache provides, which offers voice and video webinars. This tool has no limits for the number of participants in the meeting and usage of this tool. But the only thing that you need to do is get the small package to use this software after downloading and installation.
Webinar Software Platform: Easy Webinar
It combines EverWebinar and WebinarJam, which provides exclusive offers on the evergreen and live webinar capabilities. The user can use the set of advanced features that they are looking for.
Webinar Software Platform: TokBox
It is a free webinar platform offering many broadcasting features like group chats and video sessions. One can establish live video sessions using this video webinar tool that helps build the best customer retention.
Webinar Software Platform: WebinarGeek
It is a simple webinar tool through which we can find the most potent interactions and advanced marketing tools. It is the most secure and reliable webinar platform that requires no download.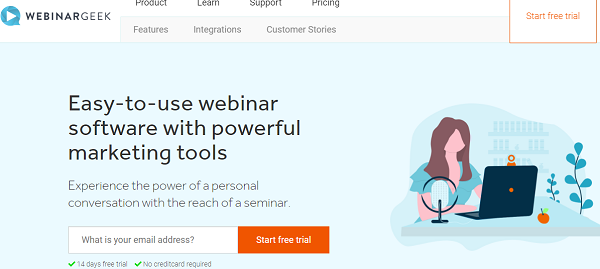 Webinar Software Platform:ezTalks
ezTalks is the webinar tool that enables users to host live, on-demand, and automated webinars, allowing 100 participants in the video and 10,000 audiences for each session. This includes customized features like HD video and audio chat, screen sharing, and remainder emails. Thank you pages, IM, reporting, etc., available.
Wrap-up
We strongly recommend you implement any of the webinars mentioned above software that can be the best option to launch the excellent promotion of your business brand.