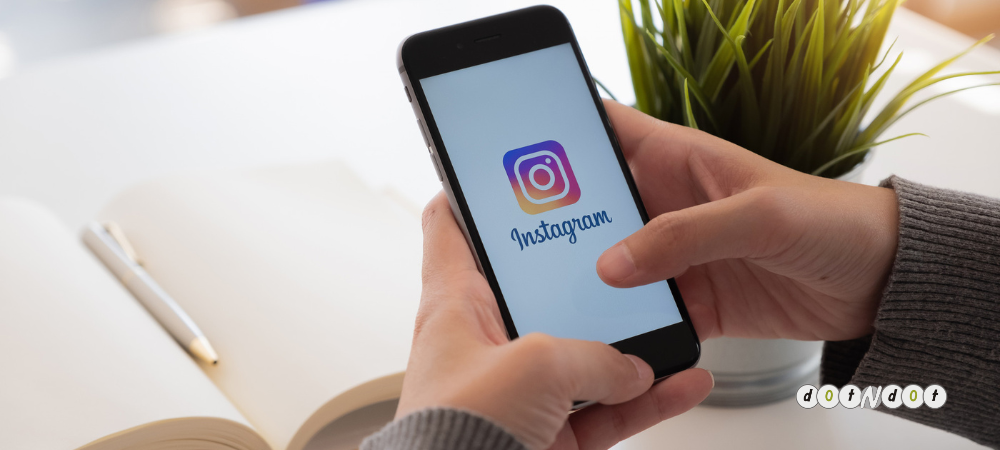 Sharing and Reposting are definitive in social media that make you genuinely interactive. Unlike Facebook and Twitter, Instagram does not allow Insta users to share content from others' feeds directly.
Facebook and Twitter designed their platforms to be user-friendly; a new beginner can also quickly retweet and share other content. Here we discuss everything about how to Repost on Instagram.
Does anyone have an idea of how to Repost on Instagram?
Are you searching for a proper way to Repost on Instagram?
Let's get to the point, and here we have compiled the proper procedure to Repost on Instagram. Some people use Regram through third-party applications, and others use the Instagram app to report user-generated content.
What is Regram?
The process of Reposting on Instagram is also named as Regramming. Regramming helps content marketers and Co-brands to remarket the user-generated content.
Regramming is defined as Reposting someone else's content on Instagram.
This process is simplified in content marketing; Regramming is not an easy way we do on Facebook and Twitter-like a one-step process.
Step By Step Procedure To Repost on Instagram
Reposting Images and Videos on Instagram doesn't finish in single-step what we do on Facebook and Twitter with one click.
Reposting on Instagram consists of a few steps to share other content feeds.
Reposting videos on Instagram account for quickly growing user engagement is the best way in Instagram marketing.
Reposting images and videos on Instagram is the same for Android and IOS users.
Go to the Instagram app on your smartphone.
Go to the feed in your Account, and choose the Video or Image from the feed.
Click on the more (three dots icon) from the top right corner of the image/video.
Please copy the link from More and share it on third-party apps connected to your Instagram account.
You can use third-party apps like Repost. This is a popular third-party app to repost on Instagram.
In another way, Copy the link that you would like to share the image or video from the Instagram feed.
Go to Messenger on your mobile and click the search button on Messenger.
Type Repost Bot on the search and paste the copied URL. Here you will see the simulated images or video with Hashtags.
Then Click on Download to download the Image / Video to your device.
Go back to Instagram and share the image/video as you usually post on Instagram, including the hashtags and Titles.
Importance Of Reposting On Instagram
It is entirely necessary to Repost the user-generated data on Instagram for Instagram Marketing. Enhancing the marketing experience and increasing the followers' user-generated data is vital in Instagram Marketing.
User-generated data is nothing but a visual form of content or data created by the users on an online system that is available on social media sites.
These are the main advantages of Reposting User-Generated data on Instagram.
Increase Conversion
Trust
Amplifies brand message
Supplies Content
Benefits Of Reposting On Instagram
Reposting allows you to communicate different new positive things about your brands.
It is a gateway for direct communication between brands and the customer.
You can explore your brand awareness and convert customers to Conversion. That means you are encouraging more users generated content.
Once you Repost the other brand's messages, you can build a new community to grow your business.
You will get a large content pool to avoid content fatigue across Accounts.
Tips For Reposting on Instagram
Those who are Reposting the content of others on Their Instagram accounts should remember the following tips.
Once you start Regramming the content,  that should reflect your business and be relevant to your Brands.
Reach out to the original content creator for permission to use their photos and Videos for Regramming.
Without legal permission from the Original content creator, you should not edit the photos and videos.
Finally, include the #regram hashtag to be easily discovered by marketers and brands to take advantage of User-generated data.
Best Tools To Repost on Instagram
Here is the best tool to Repost on your Instagram from your Android /IOS Mobiles. These Reposting / Regramming apps work the same for Android and IOS.
Repost For Instagram
This app makes your work easier and faster to Repost anything on your Instagram Account. It is like a copy-and-paste URL on this Repost app and is available for Android and IOS users.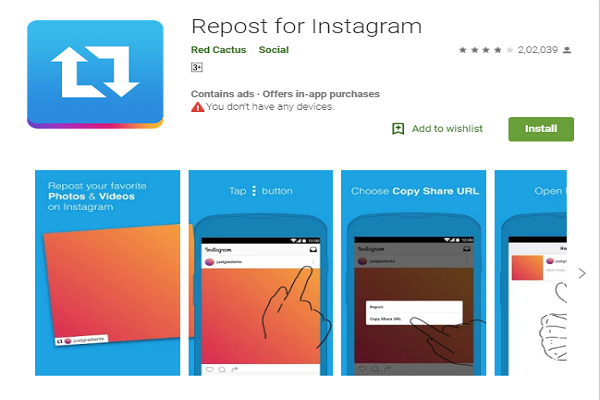 Repost For Instagram Regram
Repost for the Instagram regram app consists of smooth and straightforward functionality. Just copy the link and post it to your Instagram account directly. It is also freely available for IOS and Android users.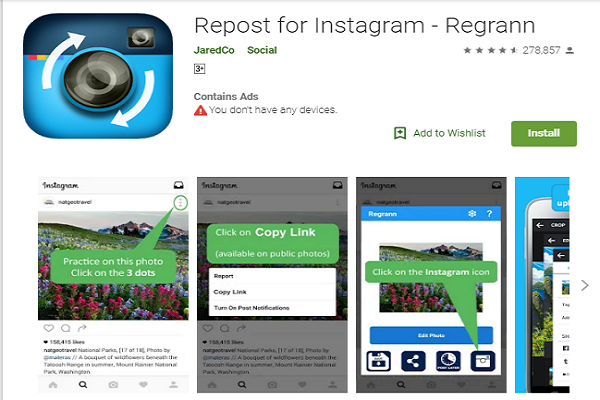 Repost Via Instant
Repost via instant is a three-step process app. This app also has millions of downloads from the Google play store. Download this app to save your favorite videos and images to your device directly.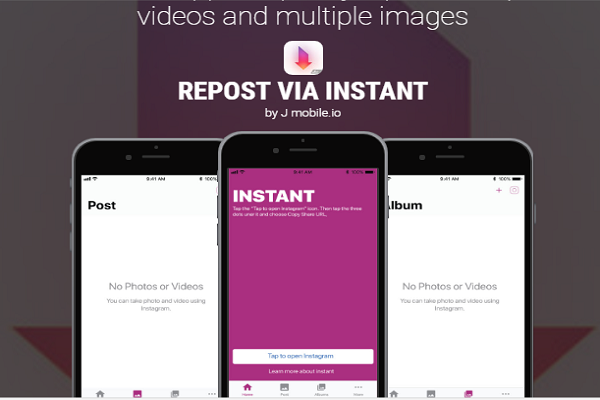 Save And Repost For Instagram
It is also an excellent app to Repost / Regram your favorite videos/images directly on the Instagram account. Just in three-step, you could complete the process of Reposting.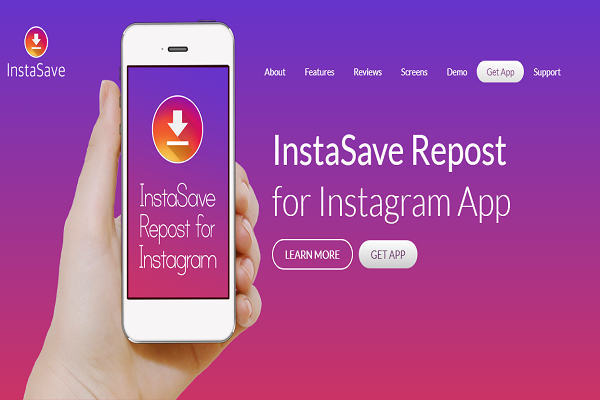 Regrann
Regrann provides a user-friendly environment to Repost Instagram feeds. You can easily save photos and videos to your device anytime whenever you post on Instagram. A perfect tool to Repost on Instagram.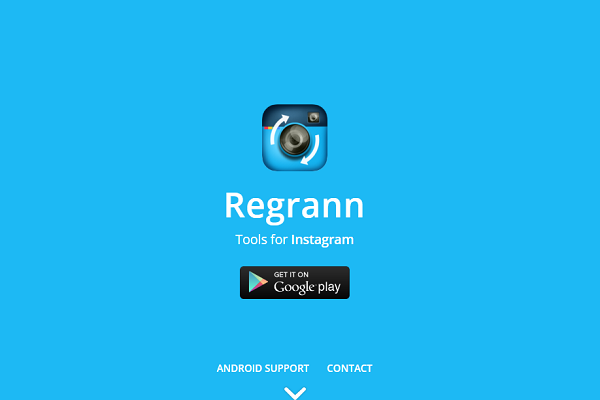 Batch save
Batch Save is also one of the best among all apps to report on Instagram. Instasave and Repost apps mainly focused on reposting Instagram Videos and photos. Quick access to photos and videos. Directly Repost without the watermark on our feed.
Ezrepost+
It makes it easy to quickly repost and save videos from others' feeds without copying URLs. Copy the feed from others' accounts and paste it on Ezrepost+ with the original caption. They are specially designed for Android users.
Reposter
Reporter allows you to post more funny and interactive videos and images. Reposter will enable users to Post photos, videos, and Stories from other Instagram accounts.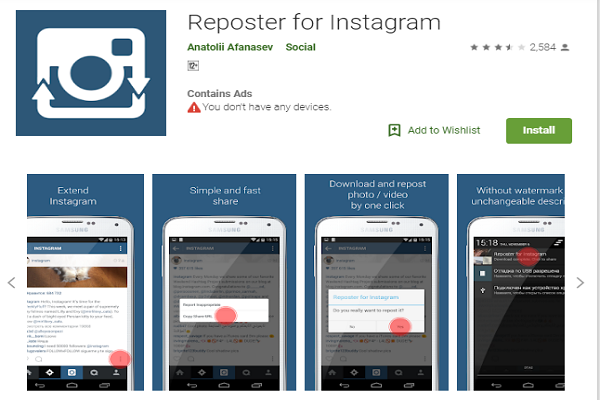 Repostly
This simple app allows users to repost their favorite unlimited photos and videos to Instagram. You don't need to log in on Instagram to Repost Photos and Videos. It will enable users to post from this Repostly app directly.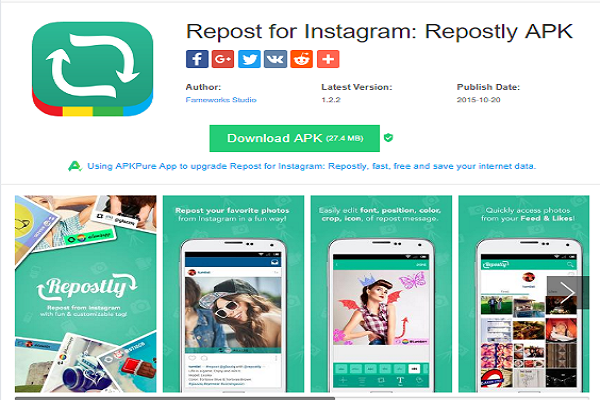 Conclusion
The Instagram algorithm has entirely changed in the last few months. Instagrammers should implement new techniques to grow their Instagram account and increase followers. Reposting on Instagram is the best way to showcase your brands on Instagram Marketing. Those in the confusion stage on reposting on Instagram go through this content for a better result.