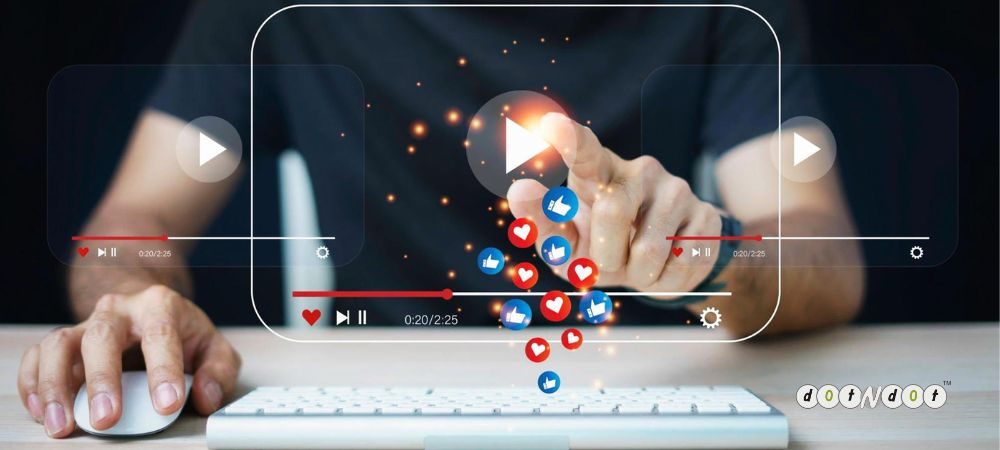 About 3 billion people are on social media Globally. We can understand how social media became an integral part of Business Success. YouTube is the most widely used network next to Google. More than half of the Social videos come from YouTube. The list of statistics about social video marketing is discussed here.
Over 85% of people use video as a business tool. These Social Video marketing and advertising statistics help you learn how marketers expand their reach, promote their products, and boost brand awareness.
Social Video Marketing And Advertising Statistics
Social Video is the only marketing tool for 81% of businesses, which raised to 63% from last year.
Social Video ads are the #1 way for brands to be recognized and purchased by customers.
81% of marketers stated that social video helps them find potential leads.
IGTV is the leading social platform where 77% of marketers post videos.
Facebook Live has become the only marketing channel for 33% of marketers.
11%of video marketers are using Virtual Reality as the source for promotions.
96% of advertisers spend enormous on the creation of video ads.
96% of advertisers spend enormous on the creation of video ads.
Social video is the most challenging marketing strategy for 91% of video marketers.
Each month the business brands publish 18 videos on average.
48% of consumers expect business videos to reflect exactly what they need.
At the end of 2019, 66% of videos were 30 seconds long.
57% of marketers are using live videos to take off-brand promotions.
After watching videos on
Every year "How to" phrase searches increases by 70% on YouTube.
To know about a product or service, 95% of the audience watches explainer videos on YouTube.
An ad on Instagram acquires 65% of the impression only from videos.
After watching a brand video on Instagram, 75% of users take action to visit the website.
82% of the audience prefers viewing the videos only from the app.
51% of video marketers use LinkedIn, and 84% are finding success.
51% of video marketers use LinkedIn, and 84% are finding success.
Brand video content is the best content for the audience on social media.
80%of marketers are satisfied with the generation of ROI from video ads placed on social media.
The visitor spends 88% more time on websites having videos.
In 2019, online users spent 6 hours 48 mins per week watching videos.
73% of B2B marketers say that video shows a positive impact on providing ROI.
93% of Twitter video views occur only from mobile.
As per the research, over 85% of Adults use multiple devices simultaneously.
6 out of 10 people watch social videos rather than watching Television.
Over 92% of social media videos will be shared through mobile devices by 2020.
Marketers estimated that 72% of consumers watch videos to learn about the product instead of reading blogs.
An average of 40 minutes spends on a mobile device to watch videos.
By 2020, more than 1.5 billion play videos and spend at least 1 billion hours daily.
65% of the senior executive watch videos on YouTube and move on to the websites.
As from a social media week report, 78% of people watch online videos every week, and 55% watch videos daily.
HubSpot analysis, 54% of the consumers ask marketers to publish more video content for brands.
17% of the internet video traffic accounts for live video traffic, which will rise continuously from 2017 -2022.
Considering Device Type, the highest 57% of video content is consumed through Televisions, 42% on laptops, 51% on Mobiles, and other devices below 40% of video content.
Mobile users contribute the majority to social video advertising. 94% of revenue was spent on Facebook video advertising by 2019 reports.
Marketers are spending more revenue on social media ads—more than $89 billion on social video advertising.
Marketers are spending more revenue on social media ads—more than $89 billion on social video advertising.
By Lyfe Marketing 2018, 80% of the time spent on social media is on a mobile platform.
96% of the people are talking about companies and their brands which are not actively participating in social media.
Over 97% of marketers use social media to promote their brands through social video ads.
Thirty seconds of video ads run on YouTube has 30% higher growth when compared to 15 seconds of video ads.
By 2019, 40% of small business owners will use social video advertising for revenue generation.
Global social video ads spending will reach $98 billion by 2020.
Visual content like Social videos is 40 X times more shared on social media platforms Instagram, Facebook, and Twitter.
According to the Survey, 20% of video Marketers implemented social video ads in the business for the first time in 2019.
46% of marketers plan to include live Webinars in 2020 as a marketing strategy.
As per eMarketer's analysis, mobile video ads will reach 72% of total digital ads spent by 2020.
G2 Crow stated that Social video gives 1200% more engagement than combined images and text content.
Social media posts with a video give 48% more views and shares than the standard text and image posts.
Conclusion:
The video buzz on social media is helping businesses to elevate their brand to a million real-time audience. Social video marketing is becoming a challenging marketing strategy for companies. Social video marketing is about reaching the audience through video content launch.