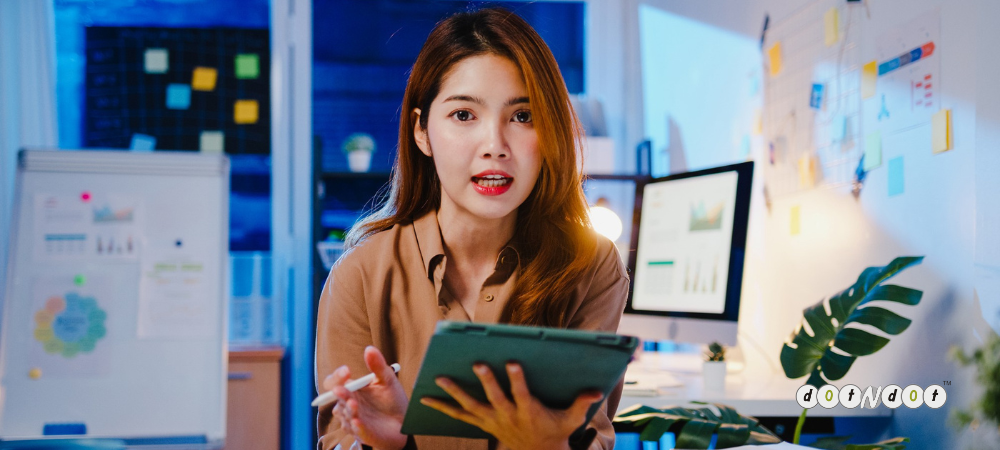 Content marketing is a never-ending cycle of new trends and insights. Every time you think you've seen it, another wave of changes comes crashing. With the recent AI and machine learning boom, we wanted to look at what the next five years may bring for content marketers.
Content marketing is a rapidly changing field. With new trends, technologies, and strategies emerging daily, it can be hard to keep up with the latest developments.
But don't worry! We've got you with 100+ content marketing trends that will shape the industry over the next five years – including everything from AI-powered chatbots to personalized storytelling.
Content marketing is a powerful tool for driving leads and sales, but as the industry matures, it becomes challenging. To stay on the curve and ensure your content stands out in 2022, you'll need to follow these 100+ trends.
Content Marketing Trends to Watch in 2023
More content marketers will create video content
Content marketing budgets will increase in size
Brands will use more influencers to reach their target audiences
Content marketing will become more personalized
There will be an increase in content marketing for mobile devices
More marketers will focus on influencers and how they can use them to reach their customers
The rise of chatbots
Brands will be more transparent about their data collection practices
More brands will offer products at a range of price points to appeal to the broadest audience possible
There should be more focus on storytelling, with content that is both informative and entertaining
Brands are expected to invest heavily in video content as consumers continue to prefer this type of media over text-based articles or images
Brands need to do more than produce quality content; they also need to measure its effectiveness and track metrics such as time spent viewing shares and conversions
There will be a rise in the number of influencers and micro-influencers
Content will focus more on storytelling than just facts
Brands will rely less on advertising but still use it sparingly to tell stories about their products or services
Companies that have been around for 20+ years are going to start using content marketing as a way to stay relevant
Brands are going to be more transparent about what they're selling
The use of video content will increase as it becomes more accessible for people to create and watch videos on their phones
More companies will start using influencers rather than celebrities in ads
There's going to be an increased focus on the customer experience, which includes things like personalized recommendations and real-time feedback
Content marketing will be more personal
We'll see a rise in "influencer marketing."
Consumers will demand more transparency from brands, demanding to know who is behind the ads they see and what their intentions are
The Internet will become even more central to content distribution as people turn away from traditional media channels like TV and print publications.
Content marketing will be less about the content and more about the customer experience.
Brands must find new ways to tell their audience authentic, personal, and relevant stories.
More brands will use chatbots to communicate with customers on social media channels like Facebook Messenger or WeChat.
The rise of augmented reality means consumers will have even more purchasing options.
Content marketing will be increasingly personal.
Companies will need to create more content than ever, meaning their content quality needs to improve.
More companies are going to start using email marketing as a way to promote their products or services.
There is an increased emphasis on ensuring your content is informative and entertaining for readers.
Content Marketing will go mobile.
Brands will create content that is relevant to the customer's needs
Brands will use artificial intelligence to optimize their content for search engines
More brands are going to start using live video as part of their marketing strategy
Increase in video content
Rise of AI to create personalized content for consumers
More influencers being sponsored by brands
Brands using long-form storytelling instead of short, punchy headlines
Video content will be more popular than ever
The rise of influencers
Content marketing budgets will increase by 25%
More companies will use the same style of content for different audiences
Brands will stop relying on traditional media to reach their audiences
Content marketing will be more about storytelling than just selling products
There will be a shift away from the "top-down" approach of content marketing, where brands dictate what they want to say, and towards an "across-the-board" strategy that includes consumers in the conversation
The future of content marketing is all about engagement
Video Content Marketing – More brands are using video to share their message with customers
Influencer Marketing – Brands will work more closely with influencers to co-create content
Personalized Content – Brands will create content that is tailored for the individual based on what they've previously liked or interacted with online
Voice Search Optimization – The voice search space will be dominated by Amazon Alexa and Google Assistant
Marketing will become more personal
Content marketing will be less about the product and more about the customer's experience.
Marketing departments will start using data to create relevant content for their audience.
Video content will be used to create engaging and interactive experiences for customers.
The use of infographics, graphics, and other visual content will increase due to the rise in mobile usage and the growing number of people who prefer consuming information through images rather than text.
Influencer marketing is expected to increase into 2022, with brands increasingly collaborating with influencers on campaigns designed to reach specific target audiences or demographics.
Marketing automation tools such as HubSpot's Inbound Marketing software suite will automatically allow marketers to execute their strategies across different channels.
Content marketing will become more personalized as marketers use AI to create customized content.
Marketers will also use AI to automate customer service, allowing them to interact more with customers while being cost-effective.
Marketing teams will start implementing chatbots to communicate with consumers in real-time.
More brands will be using influencers to promote their products
Brands will also be more focused on storytelling and creating emotionally engaging content
Influencer marketing campaigns will increase in popularity as brands realize the power of influencers to reach a large audience
The use of emojis and GIFs in social media posts will become even more popular as they are used for emotional expression
Automated content: Content is one of the most critical parts of any site. Make sure you have enough content!
Personalized content
Hyper-targeted content: Hyper-targeted content is a great way to drive traffic and increase conversions.
Voice search optimization: These days, voice search is becoming increasingly popular. You could miss out on traffic if your website's content isn't optimized for voice search.
Long-tail keywords
Video content will increase in importance.
More brands will invest in influencer marketing to reach a wider audience and tap into niche markets.
Brands must invest more time and money into creating quality content relevant to their customers' needs.
Content marketing will evolve from being about the product or service to focusing on making people feel.
The rise of the influencer marketing
More video content on social media
More sponsored posts and videos on Instagram, Facebook, and other social media sites
A return to blogging as a form of content marketing
Content Marketing will become relationships
Personalization will be the hottest new trend
Companies will spend less time creating content and more time maximizing the results of their content.
Content marketing will move from creative to strategic, with 82% of B2B marketers already putting content at the center of their marketing strategy.
By 2023, customers will expect companies to be experts in their field and generate valuable, high-quality information that customers can trust not just.
AI (Artificial Intelligence)
Internet of Things: It is an excellent way for people to connect. It's also a perfect tool for businesses because it allows them to manage their supply chain better and maximize profits.
Conversational marketing: People love to chat. The average person spends above 2 hours a day talking with others, and through that, we learn and gain valuable insights into their lives and mindsets. This is the foundation of conversational marketing.
Sync content
Personalization
Digital assistants: Imagine having a robot that could do chores for me. This is available through digital assistants such as Siri or Alexa.
Omni-channel strategies: Omni-channel marketing techniques are effective because they combine online, print, and electronic media to help promote products.
Benefit-driven content
AI-Driven Content Marketing: The future of content marketing is more interesting because AI-driven content creation will allow companies to create engaging, personalized customer messages.
Monetizing Engagement: Engagement is a great way to monetize your website, but you must ensure it's relevant. If they're not interested in the content you're offering, then there's no reason for them to stick around!
Personalized Content Strategies: Personalized Content Strategies vary based on who you target and their interests.
Using GVR for B2B Content Marketing Strategy
Content teams will no longer be siloed
Platforms will become contentful
Content-first leaders will continue to emerge within their industries
The transition from B2B to B2C: Businesses that sell products to businesses do not always deal directly with consumers. Many companies use intermediaries, such as wholesalers and distributors, which add a margin on top of the wholesale price.
The rise of the micro-influencer
Visual storytelling will dominate: Visual storytelling will dominate the future of media.
Focus on emotions instead of data.
Edutainment as a content strategy is dead. Long live edutainment.
We will experience further adoption of AI-powered digital assistants
We will see the "design human" movement gain pace
Consumers will be able to shop by visual search
More B2B Content
More Advertisement
The growth of video content
Front-end email marketing: Front-end email marketing is an excellent technique for any business. This technique allows you to connect with your customers and potential customers on more than a financial level.
Search engine optimizer's role
Linking to insight
Local content marketing: Local content marketing is a great way to ensure your business stays relevant. And it's easy to implement, which makes it even better!
Localizing the sales process
Content retargeting: Retargeting is a form of marketing that allows you to reach your customers after they have left your website. This way, you can remind them about the products they were looking at before leaving.
Smart content management system
Personalized content recommendation
Businesses will use content to drive sales
Video seeing a rise in popularity
Websites with wordless logos
Trying out podcasting
Intelligent robots: Smart robots are one of the most popular topics. Intelligent robots can do many amazing things, but there are also some problems. One problem is that people don't understand how to communicate with them. Another problem is that they could
Artificially intelligent writing tools
The rise of the influencer marketing industry
The continued use of video content to engage customers
More interactive content formats, such as quizzes and polls
Content marketing will be even more of a priority for businesses
More companies are going to hire writers who have experience in the industry they're writing about
Brands are going to create content that is both entertaining and informative rather than just informing
Video content will become increasingly popular on social media channels like YouTube and Facebook Live
Content marketing will continue to grow as the most effective form of advertising
More businesses will use video content, including live-streaming videos
There will be more influencer marketing campaigns with digital media stars and bloggers
Companies will offer customized content for their target audience's needs
Social media will continue to be a powerful marketing tool
Content marketing will become more personalized and targeted
Companies will hire influencers for campaigns instead of celebrities
Video content is expected to grow exponentially, with live streaming becoming the norm
Content Marketing will become more visual and interactive
Brands will integrate live video into their content marketing strategy to build a sense of community with consumers
More brands will create content that is designed for specific platforms, such as Facebook Live or Snapchat Stories
Videos will be more popular than ever
More businesses will start using Instagram Stories to promote their products and services.
Influencer marketing will become even more prominent as people find it easier than ever to connect with influencers with the help of social media platforms like Instagram, YouTube, and Snapchat.
Content creators will focus on creating highly shareable content- especially videos.
Social media advertising spending in 2022 is expected to grow by $8 billion.
More companies will use content marketing than ever before
A new form of content marketing called "conversational marketing," will emerge
Brands will create interactive content for their audiences to engage with on social media platforms like Facebook and Instagram
More brands are expected to use influencer collaborations in the future
Video marketing will continue to grow in popularity
More brands will be using influencers to promote their products and services
Marketing teams will focus on developing more personal relationships with customers through social media channels
Brands will invest more time and resources into building a brand voice that resonates with their target audience, which is becoming increasingly difficult for companies of all sizes to do well
The rise of voice search
Live streaming: Live streaming is an example of how technology has changed our lives.
Video content on social media platforms such as Instagram and Snapchat, instead of text posts
More personalization – with content that is catered to individual preferences and tastes
Increased use of artificial intelligence for marketing purposes
The rise of the influencer as a marketing tool
The need for content that speaks to an audience's needs and interests
A focus on storytelling, not just product placement
Increased use of chatbots and artificial intelligence in customer service
Conclusion
The content marketing landscape is constantly changing. It takes one year for one trend to become outdated, and another, more effective way of doing something occurs.
It's not simple to keep up with the latest trends in digital marketing – but if you want your business to stay on top of what's happening so you can get ahead of the game, some things will continue to be substantial in 2023.
Here are 100+ Content Marketing Trends You Need To Watch Out For In 2023! What other trends do you think we should include? Let us know by reaching our team today for Content Marketing Consulting services!