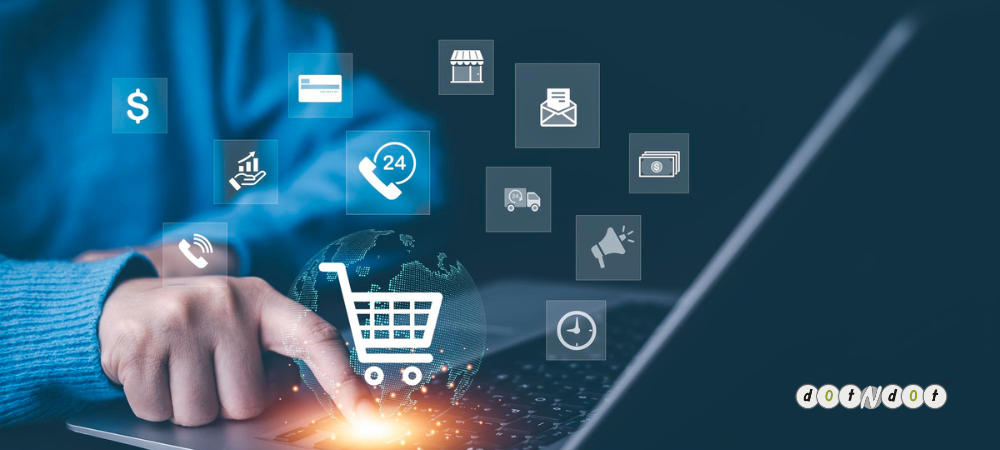 Amazon is most famous for the convenience and affordability it offers to users. There are more than three hundred million users on Amazon. With so many customers and subscribers to Amazon Prime, Amazon knows many things about its users. Amazon knows the interests and buying habits of its users. Thus, advertising on Amazon is a great idea—the guide to Amazon's Advertising Campaign is given here.
Why Amazon Advertising?
Every seller whose products can be purchased online can and should advertise on Amazon. Amazon advertising is a perfect way to take the effect to a broader audience and likely more buyers. It is good to start Amazon advertising with products that sell well online.
After checking the ROI, more brands and products can be incorporated to expand the advertising campaign. Not only will there be an increase in sales, but the organic ranking of the product will be boosted with Amazon advertising.
The cost of Amazon Advertising
Amazon ads are cost-effective on a cost-per-click basis compared to other search ads on AdWords or BingAds. It is possible to set the ads to a maximum. When the maximum reaches for a particular ad in a day, Amazon automatically turns it off. It is proven that advertisers pay very little for each click compared to similar platforms.
Things to Know about Amazon Advertising
When a person clicks on the Amazon ad of a seller, the product will be in the buy box. The seller must rotate in the buy box so that the Amazon ads work for the product. The seller has to pay per click and not impressions or views.
The impression is kept track by Amazon. Amazon also keeps track of the keywords so sellers can refine their search terms. Even when the advertiser has a maximum bid, the site only charges a minimum. Amazon advertising campaigns also work for a product already selling.
Self-Serve Ads Vs. Premium Ads
Self-service ads on Amazon are similar to Google search ads. Premium ads are related to displaying advertisements. Premium ads can appear on other websites, too. These appear as visual banners and sidebar ads.
Amazon Advertising Campaigns-getting started.
To start with Amazon ads, one has to sign in to the seller or vendor account. There are different pricing and plans to open these accounts, and the best one can be chosen depending on individual needs.
First-party sellers should sign up as vendors, which can only be done by invitation. There is another option, namely Vendor Express, for those who are interested in the vendor route but have no suggestions.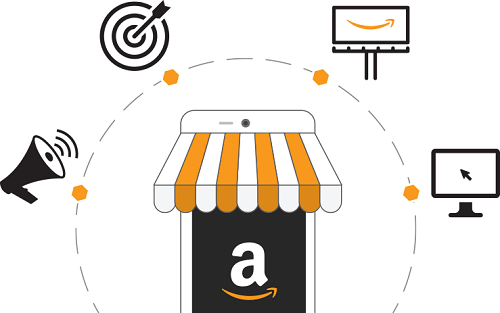 Image Source: Amazon Services
Types of Amazon Ads
There are three main types of Amazon ads. These are Sponsored product ads, headline search ads, and product display ads.
Sponsored product ads
Sponsored product ads are similar to Google shopping network ads. These drive the searches to a particular product the vendor sells on Amazon. Sponsored product ads appear above or below the search results of the page. These also can be seen on the product detail pages. These are keyword-targeted. Advertisers can set up a daily budget and choose the campaign duration. Users who click these ads will be taken to the ad's product detail page.
Headline search ads
Headline search ads appear above the search result page. These are the cost per click and take the users to a specified page on Amazon. Three or more products can be promoted using these keyword-targeted ads. Exact and phrase match is the keyword-match types supported. Campaigns can be scheduled in advance.
Product Display Ads
Product Display Ads are another type of Amazon ad. These are different from the above two formats. These are not keyword-targeted. These direct the shoppers to the product detail page. These are priced by the cost-per-click method. Each campaign in this format can be used for one target type. These appear at the right or bottom of the search results. These ads can also be seen on the customer review pages and even in Amazon's marketing emails.
Optimizing Amazon Ads
Amazon's marketplace is very massive. The vendors must have an informed advertising strategy to get results from Amazon advertising. Few things can be done to stand out from the competition.
Amazon advertising campaigns should be well-structured by the category of the product. A separate campaign is designed for each main product, and ad groups can be created under them. This ensures that the ads are relevant to the user. This helps save money spent on ads and also increases ROI.
To get noticed, use some funny and creative text in the ads. Describe accurately what is being sold. Instill a sense of urgency.
Be specific in what you are selling. Have all the essential information in the Ad Copy.
Bid on popular brands selling products similar to your products to gain exposure. The user might end up buying a lesser-known brand for a lower price.
Sponsored product ads yield the fastest results; headline search ads bring in repeated buyers. Vendors should experiment with different types of ad formats on Amazon. Check the results, and based on them, re-allocate the budget.
It is a good idea to use negative keywords. To reduce spending from irrelevant clicks.
10 Amazon Advertising Statistics
Amazon accounts for over $9.85 billion in US digital ad revenue.
1 out of 10 US digital advertising dollars spent will be added to the account of Amazon.
9 in 10 customers used to check the product's price on Amazon.
More than 2% of Echo consumers bought products from Amazon Alexa.
Amazon is selling more than 12 million products in the market.
Amazon used to sell more than 1.1 million smart home devices.
In the United States, 95 million people acquired Amazon Prime membership.
Amazon Prime members spend $1.4k on average every year.
More than 66% of product searches originate from Amazon.
Almost more than 200 million global visitors use Amazon monthly.
Conclusion
Amazon is increasingly focusing on advertising, opening new opportunities. Before an advertising campaign is created, it is essential to consider what will be achieved with the movements. Amazon advertising campaigns measurably help boost sales.