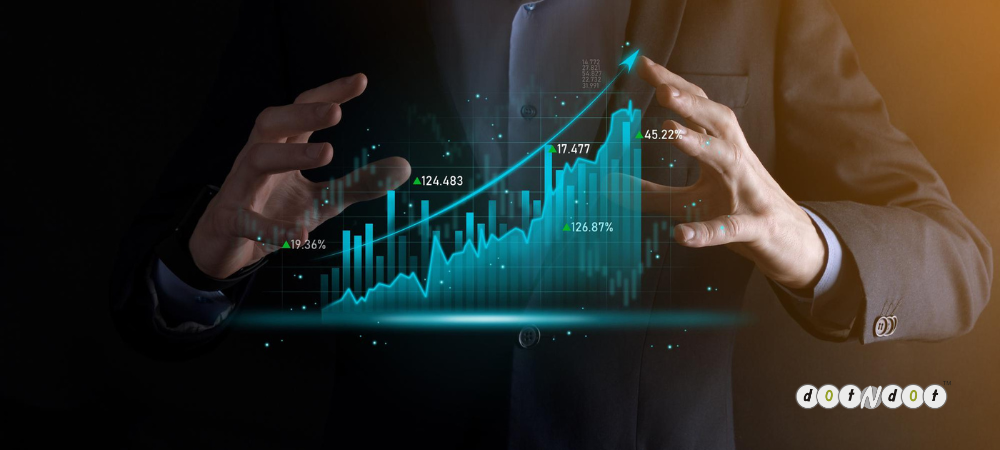 Content Marketing has become crucial for B2B Marketing Strategies. These B2B Marketing Statistics help marketers build brand awareness and authority. Well-planned B2B marketing strategies include Content from Blogs, social media posts, infographics, and videos.
According to the most recent B2B content marketing benchmark study, 90% of the top-performing content marketers prioritized the audience's needs.
The following B2B Marketing Statistics are great for the practical implementation across sales and marketing teams to establish marketing strategies and build a budget for critical stakeholders.
100 Significant B2B Marketing Statistics
96% of the B2B buyers want the Content with input from the industry leaders.
80% of the buyer's decisions depend on Consumer reviews.
Around 70% of Website traffic comes from mobile devices.
50% of the B2B queries are made through Smartphones.
73% of B2B marketers reveal that videos positively impact the ROI of that business.
73% of Millionaires say that Email is the best way for B2B communications.
50% of the consumers state that user-generated data has a greater impact on the buyers.
49% of consumers make buying decisions based on the influencer's recommendations.
More than 54% of consumers search on Google for product details.
Social Media Marketing is very effective for B2B companies; 30 % of the marketers reported it.
92% of B2B marketers fast-check the Content to ensure accuracy.
66% of B2B marketers prioritize the audience's needs in companies' promotional messages.
48% of the B2B marketers craft the Content based on specific stages of the consumer's journey.
B2B marketers created 50% of the Content for generating awareness.
B2B marketers made 22% of the Content for consideration.
B2B marketers use 50% of social media content.
Over 80% of the Blog posts / short article content is used for B2B marketing.
B2B marketers use 81% of the Email /Newsletter content.
80% of B2B marketers use metrics from various sources to measure content performance.
43% of B2B marketers measure content ROI.
65% of the B2B marketers established the KPIs.
44% of consumers take ROI calculations to make buying decisions.
90% of the top-performing B2B marketers consider content marketing effectiveness and give preference to the audience's needs.
As per the content marketing statistics, 47% of marketers admit that they can't measure the ROI, 35% can calculate it, and 18% are unsure about it.
76% of B2B marketers prioritize content quality over quantity.
45% of the consumers gained through the LinkedIn platform.
B2B marketers stated that 58 % more leads are generated through SEO.
11 out of 50 fastest-growing businesses included the Live Chat option on their websites.
Over 42% of the companies have mobile-optimized websites.
In the past two years, 70% of B2B buyers increased mobile usage significantly.
9 out of 10 Americans worry about data security and online privacy issues.
More than 33% of B2B businesses use Instagram for Marketing.
75% of the consumers are willing to share their data with the brands they trust
Brands or marketers are upfront about the data on increasing engagement by 40 % through targeted ads.
89% of B2B marketers use Facebook for brand promotion.
71% of the B2B businesses research generic Google searches.
45% of entrepreneurs spend over $20,000 for SEO every month.
55% of consumers expect all online transactions in the future.
Currently, 40% of consumers are doing online transactions via mobile devices.
57% of the Website traffic in the U.S. is generated from mobile devices.
Mobiles-optimized websites get 15% more unique clicks.
83% of marketers say that video has become essential in B2B marketing.
67% of the organic clicks go to the top five on the list.
80% of the B2B buyers utilize mobiles at workplaces.
65% of B2B businesses get customers through LinkedIn paid ads.
64% of B2B companies hire freelancers for writing projects.
At least 86% of the B2B companies maintain blogs.
86% of businesses say that blogs are crucial to lead generation.
45% of B2B marketers are looking for personalized portals.
Over 81% of businesses use video as a marketing tool.
Before purchasing, 90% of B2B consumers research 2 to 7 websites.
Almost 90% of B2B marketers start their marketing journey with a search.
By 2021, almost 80% of B2B product buying will occur without human contact.
80% of B2B purchasing decisions occur on a buyer's customer experience, and 20% of buying occurs over price or offers.
46% of B2B buyers and consumers are millennials.
Almost 50% of B2B businesses invest 10% or more in annual budgets for marketing.
17% of B2B marketers use A/B tests to increase the conversion rate for a landing page.
77% of B2B marketers make more analysis on ROI before buying the products or services.
54% of marketers believe that the B2B buying cycle is longer.
20% of nurtured B2B marketers show interest in buying the products or services.
91% of B2B marketers stated that content marketing is the most significant factor in marketing.
62% of B2B companies have a successful, documented strategy through content marketing.
89% of B2B companies successfully deliver committed content marketing.
By 2020, the customer experience will be the crucial factor of a brand differentiator.
90% of B2B buyers show interest in buying again from the vendor with the higher mobile experience.
92% of B2B consumer interactions take place over mobile.
B2B organizations drive 40% of business revenue over mobile.
By 2020, smartphones will have 70% of B2B search queries.
60% of B2B marketers say that mobile plays a vital role in recent product buying.
45% of B2B marketers seek the most personalized content portals.
B2B Marketing Zone says that 42% of B2B organizations have mobile-optimized company websites.
For each $1 spent on email marketing campaigns, the B2B businesses earn $38 on average.
LinkedIn generates almost 80% of B2B social media leads.
1 out of 3 B2B marketers feels that hiring a content marketer is the most difficult.
LinkedIn is the only distribution platform for 94% of B2B marketers.
For outsourcing writing projects, 64% of B2B marketers hire freelancers.
Almost 29% of B2B marketers repurpose the already existing Content.
The B2B decision-makers spend 760 minutes on Facebook on average.
34% of B2B marketers are not yet paying for social media management tools.
By 2020, 56% of B2B marketers think there will be no change in the marketing budget.
By 2020, 47% of B2B marketers prefer. Personalization is the top marketing strategy.
Digital marketing was the top marketing spend for 56% of B2B marketers in 2020.
In the U.S. alone, 73% of millennials are involved in buying decisions at their company.
2/3rd of B2B organizations use more than one automation tool for marketing.
On NPR, B2B brands are the biggest category of advertising.
By 2023, the U.S. B2B e-commerce may reach $1.8T.
B2B consumers do 12 searches on average before buying any brand.
62% of B2B marketers say online Content helps make business buying decisions.
92% of B2B marketers like to purchase after reading trusted reviews.
More than 805 B2B marketers access their email inboxes from the mobile itself.
47% of B2B marketers have email automation.
53% of B2B Tech buyers intended to share video content.
76% of B2B buyers show interest in sharing Content with colleagues.
70% of B2B marketers prioritize quality content over quantity.
41% of social media posts, 47% of case studies, and 50% of ebooks are the top 3 content categories used by B2B marketers.
59% of B2B marketers find blogs the most valuable form of content.
53% of B2B marketers consider blog content creation the top inbound marketing strategy.
75% of B2B marketers prefer blogs, whereas 61% of B2C marketers use them.
By 2020, 12% of B2B eCommerce exceeds all B2B revenue.
57% of B2B marketers say that SEO generates more leads than any other.
Conclusion:
The digital transformation completely changed the shape of B2B marketing. The millennials are the leading B2B buyers who are accelerating the buying process. In the same way, the current B2B marketing cycle is longer than ever. The above B2B Marketing Statistics can help you figure out how vital a role B2B marketing plays.