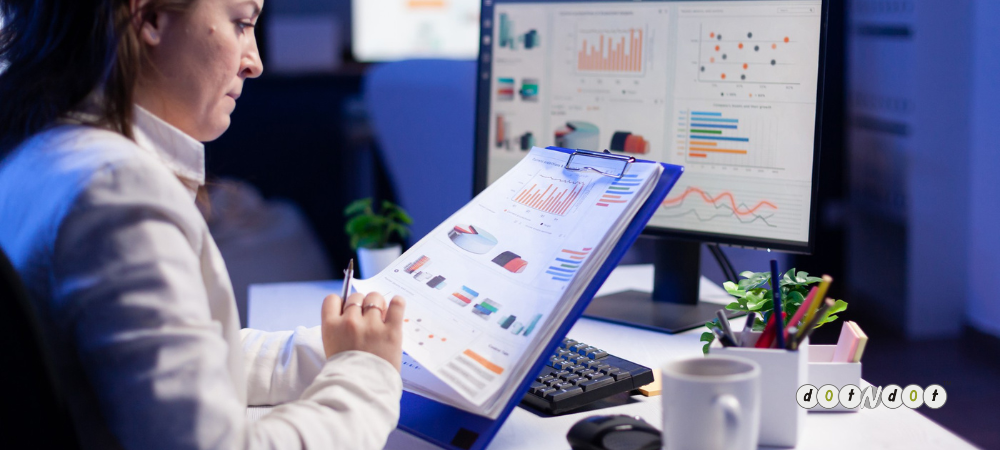 Data-Driven Marketing
Marketing is moving to digital platforms. Marketers are using data to better their marketing efforts. Significant information is collected and analyzed through consumer interactions and engagement. Understanding the data, organizing and analyzing it, and then building strategies based on insights into the data-driven marketing approach are essential.
Did you know?
The data-driven marketing approach is being followed by 77% of marketers.
Why Data-driven Marketing?
It aims to optimize the marketing strategies to cater to the latest trends by understanding the audience's and customers' demands.
Marketers must know how, where, when, and why customers respond to their marketing efforts. It helps them to make better decisions regarding the timing of advertising, the medium, and the customization of marketing processes.
It also helps to evaluate if a bounce rate is seen at a certain point in the campaign. Marketers can make the necessary adjustments to optimize the customer experience.
Marketers can focus on the efforts that will get superior ROI and offer the highest value to the consumers. They can see what the mistakes are and how to correct them.
Data-driven Marketing Benefits
The data-driven marketing approach can benefit both businesses and consumers. It is essential, however, to implement the strategies successfully.
Companies can use this strategy to create campaigns for a specific audience and send the right message to the right people. This is done by deeply understanding the customer profile.
Information about prospects and customers will be available to the marketers, and they can easily separate and group the target audience and accordingly plan strategies.
Customer experience can be enhanced using this approach. Customer satisfaction surveys help to get data about customer satisfaction.
Data-driven marketing also helps companies understand the needs and requirements of their prospects and develop products that are better suited to them.
Did you know?
Targeting the offers, content, and messages is the main objective of data-driven marketing.
Data-driven Marketing Challenges
There are indeed many benefits of data-driven marketing, and there are also challenges. Here are some everyday struggles.
It is a challenge to attract the correct type of staff who is experienced in predictive analytics and audience amplification.
High-quality data, essential for data-driven marketing, is a big challenge.
Commitment is significant to the success of it.
Integration is another challenge for companies implementing data-driven marketing. Gathering the needed data is a big task for any company.
Sometimes, data analysis can suggest action against the brand's value. Marketers should maintain a sense of brand integrity and not sacrifice values.
Taking the Data-Driven Approach
The data-driven approach helps in improving the marketing strategy. In this approach, certain things should be considered.
Automation and integration are essential to achieve the objective and avoid detailed results. The marketing strategy should be integrated with new tools and technology for automation.
All information about marketing strategy should be shared across all departments and teams. Try learning from the mistakes of competitors. Please have a look at what they are doing.
Find what is working and what is not. Keep an eye on the latest trends in the industry. Single data-driven marketing does not work for all businesses. It should be monitored and measured continuously.
Did you know?
92% of marketers stated that data will play a vital role in the future.
Data-driven Marketing best practices
Essential steps to succeed with this marketing are planning, testing, analyzing, and iterating. Marketers must know what data should be measured and how.
A/B testing is the best measure to see what works for the brand and does not. The results then should be compared to the KPIs.
Then, the marketing efforts should be adjusted and implemented accordingly. Data is driving the marketing decisions of most marketers.
Not using the data to get insights and make informed decisions means they are behind the curve.
Where is Data-driven Marketing heading?
Marketers understand the necessity of the right data-driven platforms and technology. They are utilizing the services of these platforms and technology, which are improving daily.
Data about consumers' interests and behavior are now available to marketers, making the platforms more and more valuable. Brands are creating new strategies to use new technologies.
The platforms and technologies are also helping marketers to understand what strategies are working for them and what needs to be improved.
Marketers now easily understand where they are spending and what they are getting back. They can also work to improve the customer experience on their site.
Data is one of the popular methods to improve conversion rate along with customer journey analysis and A/B testing.
There is a bright future for data-driven marketing. For any successful marketing campaign, data-driven marketing is essential, along with artificial intelligence and predictive marketing.
Did you know?
63% of marketers are investing more in data-driven marketing in the coming years.
This can contribute to customers' expectations of more and more personalized experiences. Brands use data to remain competitive and change the marketing and customer journey.
Data-driven marketing is more than measuring cost per click. The range of platforms and data sources is available for marketers, which they can use to target the right customers, help improve marketing performance, and create new strategies.
Marketers should be familiar with the tools and technology available and compete with the other brands with a more informed approach to data-driven marketing.
10 Data-Driven Marketing Statistics
86% of customers are ready to pay for the best customer experience.
More than 74% of the audience is annoyed by the relevant business ads.
Above 40% of businesses are planning to increase data-driven marketing spending.
64% of marketers say data-driven marketing is significant in their business today.
2 out of 3 businesses state that data-based business decisions are efficient.
Three of every four marketers consider that 76% of business decisions go on data analytics.
54% of business brands reported that delivering high-quality data is the toughest challenge over data-driven marketing.
More than 57% of marketers misinterpret data and find incorrect results.
47% of the newly arrived data holds at least one dangerous error.
3% of business executives identified that departments' data fall within the acceptable data quality range.