Content creation is no longer the exclusive domain of journalists, newspapers, and advertisers. The resulting cascade of information requires new content organization and consumption techniques, and content curation disciplines, competencies, and skills are now critical.
This article argues that active content curation requires real-time technology and tools used by knowledge domain experts who can interpret and add insight to Content.
It explores the content curation process, introduces five laws for the curation economy, presents models of content curation, and assesses essential curation skills.
It is a necessary skill for all of us to be better learners with the knowledge and understanding to work on the challenging issues we face today.
Finding the best information, storing it, and sharing it can be robust.
Did you know?
[blockquote align= "none"]80% of marketers think of sharing third-party Content that leads to a brand reputation.[/blockquote]
Pocket
The Pocket is a great place to get into the habit of accruing Content to save and share later. It keeps all your interests, articles, and videos in one place for reference.
It will be held in your Pocket when you find something you want to view later. After putting it in your Pocket, consider that you don't need an internet connection.
Twitter Lists
Twitter Lists come in handy. Curated groups of Twitter users that you can categorize and follow separately from the rest of your feeds.
It has even better features; you can easily save articles from Twitter directly into your account if you create a Pocket account.
Newsletters
Here are a few that are doing a great job in original Content Curation:
Redef's newsletter is one of the best in content curation. It has launched a site curating the best in media, sports, fashion, music, and technology.
Daily Brief loads quickly on phones, tablets, and desktops, making it easy to read on any device without large images. It is text-based with cross-platform functionality.
Internet Brunch, find the best news, GIFs, and trends.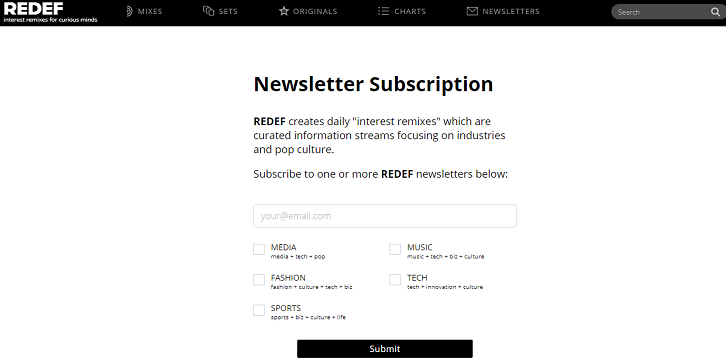 Scoop. it
Scoop. It helps individuals and businesses publish Content in an efficient and impactful way. It uses big data semantic technology to help you quickly find relevant Content.
You can achieve good social reach and traffic from your topics. Publishing your Content Curation creates and grows your online presence in minutes.
Feedly
Feedly is a supercharged RSS feed—the Content you need to accelerate your recharge, marketing, and sales. Feedly is a personal magazine.
It helps you access the Content of your favorite sources. Wherever you want, from anywhere.
Storify
The concept is simple: users can search, browse, or create stories from social media sites like Facebook, Twitter, and Instagram.
From there, they can use that Content to tell or follow a story, as the name suggests.
Sniply
Sniply is a conversion platform that adds your custom call-to-action to any page on the web; every link you share allows you to engage your followers.
Curata
Curata can recommend and help users discover Content relevant to their respective audiences without much human labor.
It has automated marketing platforms by publishing and promotion and allows you to produce curated Content on your blog and social newsletter.
Publish This
It is similar to Curata, Publishes. This promotes the reliability of its algorithm to source relevant Content for your audience.
Big Content is powered mainly by monitoring, personalization, Analytics, curation, publishing, and marketing automation.
Did you know?
[blockquote align= "none"] Content marketing costs 62% less than traditional marketing.
[/blockquote]
Trapit
TrapIt tools help employees follow best practices" on social media and support internal leaders to become established thought leaders and social selling.
Trapit's platform is discovering, organizing, personalizing, and distributing Content. It helps users prospect, network, and build relationships by sharing the information that will be most relevant to their targeted audiences.
Pinterest
Pinterest is an excellent source of infographics. From food recipes to home decoration, this platform offers a variety of filler ideas.
Pinterest is also used to share and organize all the Content you can find. You can draw inspiration from different pinboards to create your posts.
Quora
Quora is an enjoyable tool. You can set up an account to find the excellent Content you need to search for keywords for your future use.
Also, set up an account to notify articles, and then you can get more articles and exciting ideas in your inbox.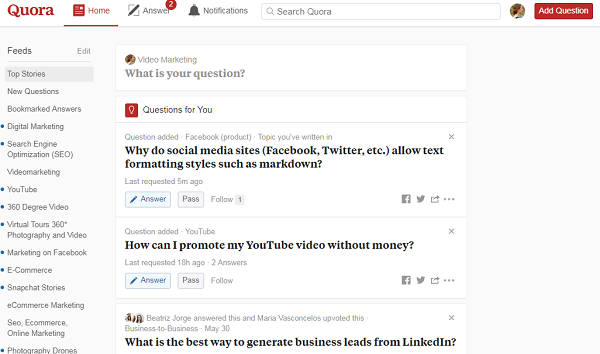 My Curator for WordPress:
This tool is perfect for those who utilize WordPress for their website and blog.
Installing a plugin gives you a chance to regulate the curated Content.
Learnist
This tool is great because it helps people learn from industry leaders.
Also, it is great for content curation and creation because it features continual learning. You can curate expert Content and even learn new information about your industry.
Slideshare
It is somewhat different from all the other content curation. It will allow you to learn from others and share your knowledge.
You can look through several Slideshares of those in your industry to gain new information and curate content, and you can always share what you've learned to help someone else look.
List.ly
It is excellent to help you keep track of things; they are perfect for content curation. It will be more impactful in helping you find Content and which Content you want to stay away from.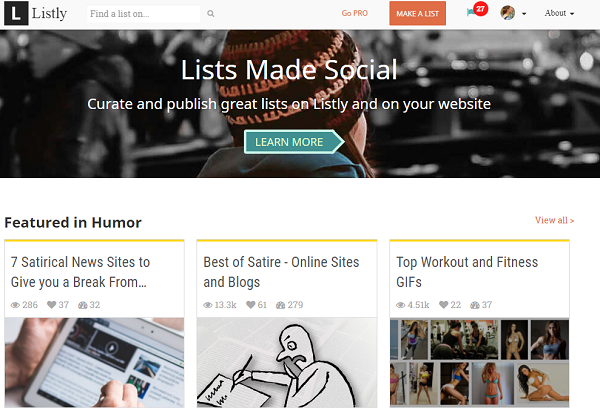 ContentGems
ContentGems, it is very likely that you will be able to curate Content that will apply to your needs.
You have to search your chosen keywords, and you can skim through several different resources, curating Content along the way. ContentGems is a content discovery engine.
Triberr
It amplifies your Content and social reach through the power of tribes. Triberr is a great way to help connect with industry leaders and curate their Content.
Post Planner
By spending just ten minutes each day on the program, It promises that it can help you get viral Content.
By giving you the maximum reach with your Content and blogs, It looks at your Facebook and decides what dates, times, and content pieces will work best for you.
Also, you get those curated pieces out to your audience so that this can help boost Facebook engagement.
DrumUp
DrumUp is the world's leading social media and content marketing app.
DrumUp has numerous websites that go through lots of Content and give you the freshest and most relevant stories. You can add many social media accounts to your dashboard and link your blog to social considerations.
DrumUp also enables you to set influential
posts to repeat schedules.
Klout
Klout Score can be assigned to social media accounts, which provide a rich source of relevant articles but are often better known. The Klout Score is based on your social media profile and activities.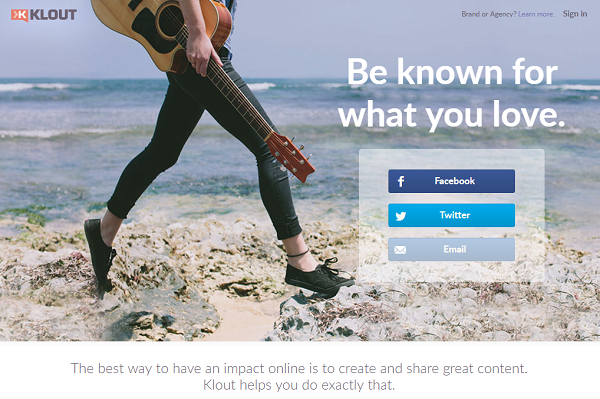 InoReader
InoReader is an intelligent RSS Reader. It is not only Just RSS Reader but also a vibrant community of content curators.
InoReader gives you access to a vast, well-rounded Content library with free search and discovery options. It has the best feature of the possibility of using extensive archives.
Did you know?
[blockquote align= "none"]53% of businesses use interactive Content.
[/blockquote]
Medium
It works very well for content developers, and Medium emphasizes creating and writing your own stories. The website also comes with a free installable bookmark tool.
This tool allows you to click on it when you're on an inspiring web page and takes you directly to the Medium writing interface so that you can work on it.
It also links to the page you were inspired by, which helps you remember where your content ideas came from.
Flipboard
Flipboard creates your magazine. It is used to browse articles, videos, and photos your friends are sharing, catch up on the news, and read stories from around the world.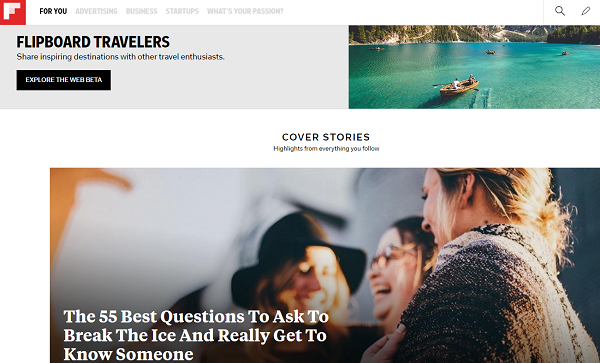 Pearltrees
Pearltrees is a visual and collaborative curation tool. It allows you to collect, organize, share URLs, and upload personal images and notes.
Juxtapost
It is a fast, free, and simple way to bookmark online images. It can collect and manage categorized post boards.
Bundle
Bundlr helps you create content "bundles" from your favorite sources across the web.
While you browse the web in real-time, source blog posts, articles, tweets, quotes, links, videos, and other media works here and "clip" content into your bundles.
iFlow
You can discover the web and curate content all in one place with this iFlow.
The tool excels at drowning out the Internet's constant chatter while zeroing in on compelling, useful Content tailored to the subjects and topics you identify – blogs, articles, videos, and images you want to curate.
Instantly share your favorites via
various flows, categorized according to your interests, expertise, service, or other topics.
NewsIt can track users' Facebook friends, LinkedIn connections, and email contacts in the news. It will not allow you to miss a remarkable story about a friend, professional communicator, or public figure.
Kuratur
It has the feature of consistently publishing fresh Content on websites or blogs in minutes a day to keep readers engaged.
Zemanta
Zemanta is a kind of tool like click-it and forget-it. Zemanta is based on an algorithm, not human input, and its picks can be hit or miss.
It is a clean, elegant, and super-fast tool. It can manage every aspect of your digital native media buying from one simple dashboard.
Site
Zite aggregates content based on a proprietary algorithm that prioritizes your preferred topics and the relative popularity of individual posts and articles.
BundlePost
BundlePost aggregates and schedules social media content. It has the features of searching, editing, and scheduling with the browser plugin or social media dashboard.
Spundge
Spundge does something different from Pinterest; it learns what interests you and tries to reach results that meet your needs.
Paper. li
It is used to publish 'newspapers' comprised of Content from anywhere on the web to treat your readers to fresh news daily.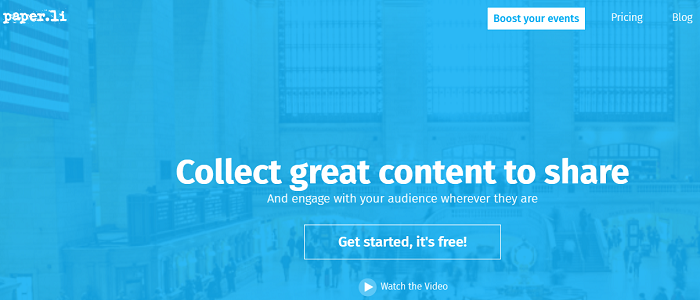 Thinglink
You're guaranteed to boost your website's traffic and online visibility—the goal of any content curation and creation scheme.
Waywire
Waywire is a video curation tool. It can be embedded in hundreds of top-quality sources from trusted media makers to enhance your site with topical, timely, and contextually relevant videos.
Trapit
It is a personalized content discovery application. Publishers or individuals can use brands to discover, engage, share, and publish Content.
Echo
Echo's most remarkable feature is Echo Conversations, a commenting system that enables real-time, natural conversations that encourage engagement and boost time spent on your website.
Flockler
Flockler helps to combine all your Content, including what your fans say about you, into one social hub.
Addict-o- Matic
Addict-o-Matic will search for the best live sites on the web. It will find the latest news, blog posts, videos, and images to keep up with trending topics.
Sutori
It can be created and shared collaboratively with visual stories.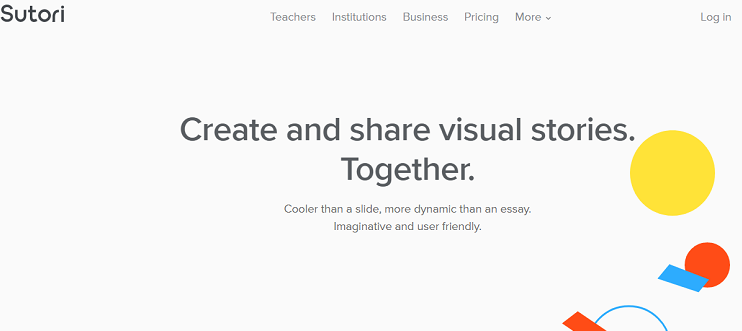 HeadSlinger
HeadSlinger is used to find all your news half the time. It can scan your favorite sites' headlines in seconds and store your favorite news sources in quick, easy-to-find folders.
CurationSoft
CuratioSoft enables content curation for users. It also helps establish brands as an authoritative voice and a go-to source of information.
TagBoard
It is a social media hub for hashtags. It will aggregate, moderate, and follow hashtags and create and follow your hashtag conversations.
Curation Traffic
It is a WordPress plugin that allows you to collect posts, articles, infographics, videos—any content. It can share it with the way your market finds it helpful and exciting.
Spredfast
Spredfast is used to help brands, media, and agencies involve and connect with audiences by integrating social media into their marketing and advertising efforts.
BagTheWeb
BagTheWeb is a content and curation networking company. The users can find, create, and share 'bags' of web content topics they care about.
RebelMouse
RebelMouse creates a blog, website, or social page in seconds. It will only connect your social networks like Twitter, Facebook, Instagram, Google+, or LinkedIn.
Eqentia
Equentia is a platform for web content publishing, distribution, and engagement. To match your existing Content, It has an advanced curation feature of real-time aggregation and text-mining where the material is discovered to match your current Content.
Shareist 
Shareist is a home base for users' content marketing activities. It will capture bookmarks and ideas, share them on social media, and save them for building and publishing pages to blogs.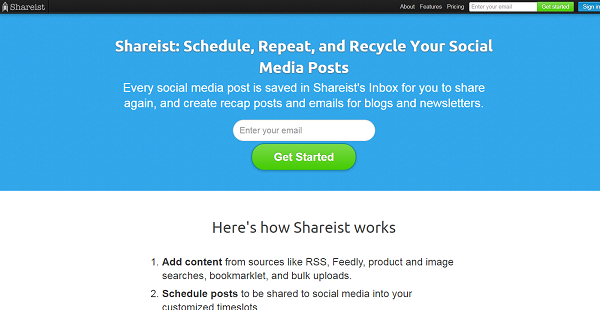 Kbucket
Kbucket is a user-indexed search site. It has expert "content curators" who organize, comment, tag, and publish their research to support their content marketing strategy.
Flashissue
Flashissue is a Gmail newsletter creator. It helps you find Content, create mailing lists, and get reports and analytics for emails sent.
Symbaloo
Symbaloo is a personal start page that allows you to navigate the web quickly. It will compile your favorite sites into one visual interface. Also, it will save your bookmarks in the cloud and allow you to access them from anywhere with any device.
Did you know?
[blockquote align= "none"]74% of internet traffic is generated through video content.
[/blockquote]
Vidinterest
It is a social video discovery platform that allows you to bookmark videos and create private or public playlists of videos. Bookmark videos from any website featuring videos from YouTube, Daily Motion, and Vimeo.
Follow ze
Follow ze is a B2B content engagement platform for marketing and sales. It will create content experiences that dynamically adapt to a visitor's profile, company, industry, and stage of the deal.
Channelkit
Channel kit allows you to tag and structure all information in one place. Channel kit includes websites, contacts, articles, PDF files, or images—all displayed as intelligent cards in channels.
Sharpe
Sharpe will break down information silos, improve collaboration, and share what matters most with the people who matter most to your business.
Huzzaz
It is a video curation platform that allows you to discover, collect, and showcase YouTube and Vimeo videos. It will analyze viewing behavior, determine which videos matter most to your viewers, and increase site engagement.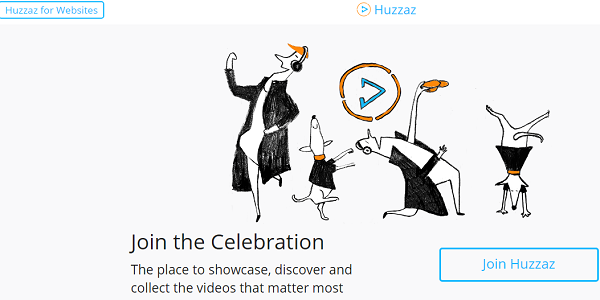 Content
Content is a content discovery and curation tool that crawls the web to pull news articles and blog posts.
It sorts of factors like social influence and recency, reducing the need to browse through hundreds of page results.
LinkHubb
It can curate and share links visually, upload documents and files to the cloud, and use affiliate technology to generate ad-based revenue. It features an enterprise dashboard with detailed metrics.
Crowdynews
Crowdynews will automatically integrate real-time social Content alongside editorial Content to increase engagement and drive revenue.
Link
It helps generate the Content through a bunch of links. It allows publishing, sharing, and extraordinarily curating online Content.
Similar
Zimiliate is a webpage clipper. It will save perfect copies of web pages, files, images, and notes from your browser to collections stored in the cloud. They're accessible even if the original page changes or disappears.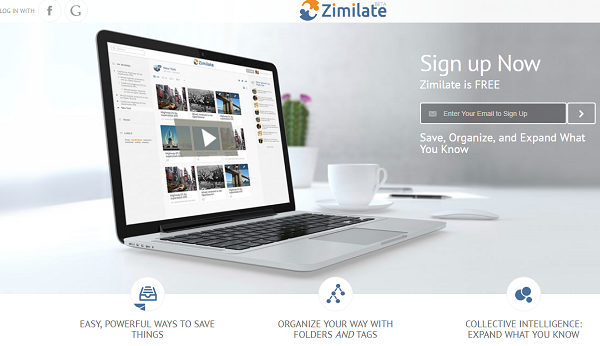 Roojoom
Roojoom will create Smart MiniSites, online magazines, and e-newsletters. You can personalize Content for each user to increase engagement and conversions across the customer life-cycle.
Before selecting the best tools for a particular business, it's essential to know the role of Content curation in your marketing operations and the size of your team.
These are the most critical Content Curation Tools used for your marketing field. These tools are great; you can follow industry blogs and social media.