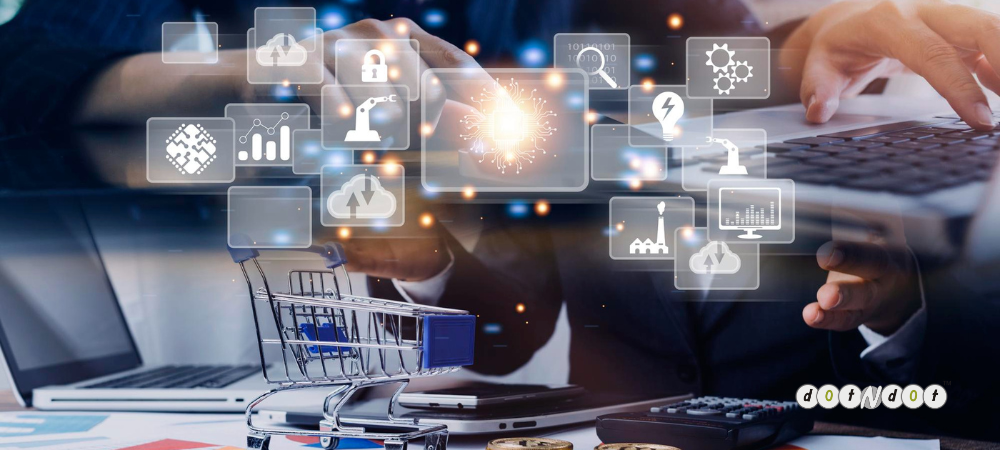 eCommerce sales are more flexible for online business owners, either driving sales or up to date with the trends in the market. But it is tough for in-store businesses. The availability of affordable customer devices and customer-friendly eCommerce sites let commerce continue online with outstanding results.
To know how it happens, go through the below eCommerce Marketing and Advertising statistics available nowhere.
eCommerce Marketing & Advertising Statistics
By 2040 almost 95% of product purchases will happen over eCommerce.
In the U.S…….. alone, 80% of internet consumers make one online purchase.
Online shoppers prefer credit cards, most commonly for making payments.
44% of eCommerce companies focus more on customer acquisition.
16% of eCommerce companies focus on customer retention.
56% of in-store purchases are driven by E-Commerce influence.
According to GeoMarketing, 76% of customers prefer to visit the physical store, especially for holiday shopping.
The eCommerce industry finds a 23% growth year over year.
46% of U.S. small businesses don't have company websites yet.
69% of B2B companies will print no catalogs in 5 years.
57% of online customers prefer to buy from Overseas retailers globally.
55% of online shoppers brought product awareness among their friends and family when disappointed with the company's service.
50% of customers buy something from a website using Chatbot for conversational marketing.
There are almost 12M to 24M eCommerce websites in the world.
By 2021, the share of m-commerce (mobile commerce) in all eCommerce may rise above 72.9%.
India and Indonesia are the expected countries to find rapid retail eCommerce growth by 2021.
The Product Information Management market accounts for 25% of the compound annual growth rate.
Based on Gross Merchandise Volume (GMV), i.e., $768 billion, Alibaba is the biggest eCommerce company in the world.
Amazon is the 2nd eCommerce company in the world, which drives 75.4% of eCommerce sales in the U.S. alone.
PayPal has more than 267 million active registered accounts.
Fashion is the most preferred category in eCommerce, enabling 18.61% of online customers to do online shopping.
Generation X customers make almost 19 transactions per year on online shopping.
While comparing with Millennials and Generation X, Baby Boomers shop more online.
By 2020, 53.9% of all United States eCommerce sales will happen over mobile commerce.
Shopify stores drive 77% of traffic from mobile.
55% of Americans search for products on Amazon eCommerce sites.
67% of mobile users download the retailer app.
22% of millennials prefer mobile for online shopping.
8 in 10 mobile users are looking for online local businesses.
1+ billion mobile users use smartphones only for banking purposes.
32% of online customers bought at least one connected home device.
61% of customers prefer to respond to brands through emails.
Email marketing adds $44 for each $1 spent for an ROI of 4400%.
On the Facebook page, the E-Commerce sites upload 4.55 posts each week on average.
Facebook generates 85% of online orders to eCommerce sites from other social media platforms.
By 2020, the combined ad spending on Instagram and Facebook will reach $95 billion annually.
Kinsta says 74% of customers make buying decisions based on social media sites.
46.5% of businesses say that free shipping adds more profit.
69.89% is the cart abandonment rate of all industries on average.
eCommerce sites might lose $3 billion annually at an average abandonment rate of 70%.
40% is the highest abandonment rate of clothing; tech is 18%, and home products at 16%.
65% of the customers compare the price in the physical store and mobile eCommerce sites.
73% of customers prefer to buy the products or services after watching the video.
46% of consumers show interest in product comparison from eCommerce websites.
42% of customers want to find more testimonial video eCommerce sites.
Due to poor eCommerce personalization strategy, the companies lost $756 billion.
2.86% of eCommerce sites will make website visits to sales conversion.
1.9 seconds is the average load speed of top-ranking eCommerce websites.
81% of customers get the advice of family and friends while choosing a business.
60% of customers would prefer buying a product suggested by YouTube to a movie or T.V. star.
Six out of 10 Americans use self-service tools for online shopping.
Americans use eCommerce websites 24%, 14% of mobile apps, 13% of voice response systems, and online live chat 12%.
75% of Instagram users visit eCommerce websites after seeing Instagram ads.
More than 82% of internet users do online shopping via mobile devices.
90% of mobile users spend their time on Apps.
By 2020, $4.5 trillion is the worldwide eCommerce sales revenue.
It's a prediction that 95% of the shopping will be facilitated by eCommerce sites by 2040.
By 2020, 2.1 billion online digital buyers worldwide.
ECommerce influences 56 % of in-store purchases.
18% of the local searches made sales within 24 hours, either through direct store visits or online.
53.9% of the retail eCommerce in the U.S. is expected to generate via mobile eCommerce.
B2B eCommerce sales will outgrow B2C eCommerce sales by 2020.
Over 92 billion Global digital buyers and is expected to reach 2.14 billion by 2020.
62% of shoppers make smartphone price comparisons while shopping in retail stores.
80% of Americans do online shopping and half buy via mobiles.
84% of online shoppers do not purchase from eCommerce sites, which is not secure.
38% of consumers leave eCommerce sites because the site layout is unattractive.
Consumers spend 36% of their budget on the Internet.
The International B2B market worth is 5 X times more than the Global B2C market.
Because of poor customer experience, 80% of customers stop buying brand products.
Conclusion
Big companies like Amazon and Shopify eCommerce sites dominate the digital world. A vast worldwide market with consumers increasingly relies on online shopping.
More mobile users are discovering the joy of eCommerce and cross-promoting brands. Success is as simple as a chance to make your mark in the digital economy.