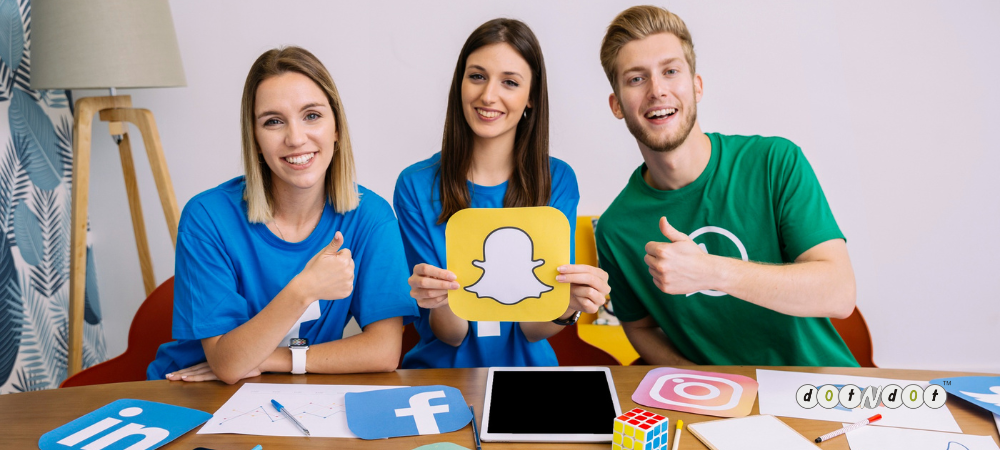 It is the right time to attract a new audience with innovative techniques in Digital Marketing Field. Snapchat is an extraordinary way to attract young people ages 14-34. Have you ever heard that Snapchat can reach the more new audience? Here is everything about the creation of a Custom Geofilter on Snapchat.
Confidently say yes, because Snapchat GeoFilters create magic in Social Media Marketing. Currently, Snapchat Custom Geofilters are trending in Snapchat Marketing.
Snapchat Geofilters can attract more advertisers and brands. Creating custom Geofilters and Lenses allows users to create incredibly customizable and sustainable location-based Geofilters suitable for all locations.
Steps to Create Custom Geofilters on Snapchat
Some people are confused about using custom Geofilters on Snapchat with their devices. Creating Snapchat Geofilters is simple, as it takes a few minutes.
Go to the Filters and Lenses on your Snapchat account.
If you are an iOS user, Tap on the gear icon on the top right corner of the Screen to go to the settings; on the settings menu, choose "Filters and Lenses."
If you are an Android user, Go to the settings in the screenshot's right corner. From the settings menu, tap on the "On-Demand Geofilters." The name and functionality vary slightly because Custom Geofilters and Lenses have not yet been introduced on Android.
In the Next step, choose one among Filters and Lenses.
Filters offer overlay that is superimposed onto images. At the same time, lenses provide an immersive AR experience. Filters allow users to apply borders and backgrounds to the photos. Lenses offer 3D, GIF, and animated pictures and videos.
GeoFilters are less flashy than the Lenses and more customizable. Once you choose the Filters, Snapchat will ask you for the Occasion details.
The Screen will appear like "What's the Occasion?" with a drop-down menu displaying occasions like Valentine's Day, winter vibes, etc.
Once you have selected the occasion, choose your filter and edit the snaps and videos. You can not wholly replace the image while editing on filters, and you can change the faces and background using Bit Emojis, stickers, etc.
If you selected Lenses, you must go through the same step you did in filters. Lenses are more flashy than filters, and they are limited. After choosing the occasion, shoot a snap and tap on the checkmark at the bottom-right to continue.
You can also choose the greatest hits, which allows you to use the old lenses passed out. Just tap on the plus icon, and you get tons of variations.
The next step asks you how long you want to use filters/lens to run.
Choose the time and how long you want your custom filters or lens to stay "on." The maximum you can use filters or lens up to 5 months.
Choose the date and time you want your filter to be active. After finishing the selection of "Start time "and "End Time," tap on "Continue."
In the next step, choose the geofence. Geofence is just like you are selecting the area covered by your surroundings.
Snapchat requires a minimum of 20,000 square feet of area. If you want to go for more than that, custom Geofilters can charge $5.99; the cost will increase depending on the geofence.
Fill out the Submission form with titles and payment information. Next, click on "Submit" to get confirmation from the Snapchat. You may get a notification or receive an email once it is approved.
Types Of GeoFilters on Snapchat
They are two types of Geofilters, Community GeoFilters, and On-Demand GeoFilters.
Community Geofilters :
Community Geofilters are for universities, cities, and public locations. An individual artist can use or submit this type of Community GeoFilters. If you are a business person, you cannot use community Geofilters.
On-Demand GeoFilters:
To use On-Demand Geofilters, you must spend some money to buy the On-demand GeoFilters. Businesses and an individual can access this type of On – Demand GeoFilters. It's not a big deal to spend $20 on the company. On-Demand Geofilters can cost less than $20.
Sponsored Filters :
Sponsored filters used for Snapchat ads. People used to share these filters with Snapchat ad sponsors, formerly for significant events, pre-release functions, and product launches.
Data Filters:
Depending upon your device Snapchat delivers information. Data filters showcase general things like current weather, time, battery life, and day of the week.
Tips to Create Custom Geofilters on Snapchat
Mentioning the Caption in your photos or video will increase your audience engagement by 56%. That means it is rising more than half of the audience engagement.
Post your Snapchat photos and videos with extraordinary titles and captions. Instead of just posting the images, add tags to your photos.
Add colored filters to your snaps using Emojis. Take the Emoji to keep zooming it and push the Emoji to the corner over and over until you get the pixelated, faded look from the edge of the Emoji. It covers up your whole snap and looks in a different color.
Think carefully about your selection process for the geofence. The Geofilters should cover only mandatory areas in a county.
Rules For Submission Of Snapchat GeoFilters
Snapchat graphics must be original unless you use them for business purposes.
A business person can use only logos and trademarks, not more than that.
According to the Snapchat submission guidelines, a snap should be 1080 pixels in width and 1920 pixels in height.
The file size should not exceed 300 kb for submission to Snapchat GeoFilters.
Snapchat graphics should be visually apparent, and it doesn't cover adequately.
Some people use Lenses for Snapchat ads. Like Snapchat sponsored filters, we have Snapchat custom lenses.
Custom Lenses are more costly than On-Demand GeoFilters.
Conclusion
Creating Custom Geofilters is not a difficult task, but you should be careful enough in the selection process. Everyone who uses Snapchat GeoFilters should follow these guidelines for ultimate results.