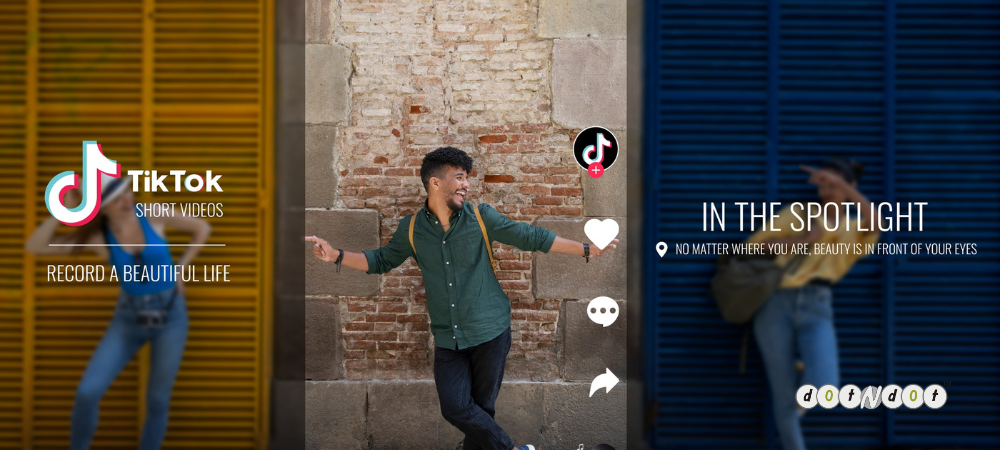 Now, millions of people are enjoying TikTok by creating fun short videos. Along with business brand promotion, most ordinary people, from youngsters to homemakers to even older people, are becoming celebrities through TikTok short videos.
Everyone is thinking of making fresh, creative, quick video content. Moreover, these videos are becoming viral on giant social media channels like YouTube, Facebook, Instagram, and Twitter.
You can lip-sync and recreate dance routines for a song or shows of actors. Most of the audiences are addicted to watching or creating TikTok videos.
They consider that most of the business brands are promoting their brand on it. They are sharing their brand videos either on their own or reaching the influencers to place their product.
This is the only platform where any business can find a real-time engaging audience, especially in promoting their products or services. If you see the other social media channels, the audience used to be online at a specific time.
It is challenging for businesses to find an online audience and serve their ad immediately. It is the best solution to eradicate that problem.
Do you know that TikTok is an entertaining channel and a powerful branding platform for business brands?
Why is TikTok so popular?
The mission of it is to seize the entire world by capturing and presenting its creative and knowledgeable moments through a short form of video content.
The direct creation of videos through mobile is the most significant aspect. The tactic of enabling everyone to be a creator has given viral vibrations of success. This encourages users to uplift their hidden talent by creating ultimate content as a passion.
Is it compulsory for brands to use TikTok?
We already discussed how popular TikTok is. The top social media apps, like Facebook, YouTube, and Instagram, face high competition from it. But all apps have unique features that lead them to gain a world reputation.
When compared with the above apps, it is entirely different. The user base is essential on TikTok as it enables them to gain views from the entire world.
Most importantly, many million similar apps are available in the market, but only it has an unbeatable reputation that no one can reach.
It's all due to its algorithm. When the TikTok user uploads the video and gains specific views, comments, and likes, it will be served to the other users. Moreover, uploading helps increase the audience's attention depending on the content.
The library has many shareable and funny TikTok songs and emojis. Also, the live option is available on it. If any brands or influencers want to disclose their products to live and provide customer solutions, they can use live.
All these features can help the brands reach the consumers in real time, engaging the audience to elevate their products or services.
What makes this app ideal for brands?
Gender and Age:
80% of sits users are under 30, and 66% are female. These two are critical factors for any business to get rapid success. Moreover, it focuses more on promoting creative content creators.
Key opinion leaders:
The brands can establish a long-term relationship with the users on it. It boosts the ordinary young people to become the great influencers.
Location and luxury:
Most teens stepping up to set up their careers fulfill their dreams by becoming influencers. This app is available in more than 33 languages. The location-based brand advertising can quickly impact the audience that makes the conversion.
Adverting formats on TikTok
Hashtag Challenge:
The brands can use promoted hashtags to launch viral ads on it. In this type of advertising, the hashtag challenge contains a link that directs the audience to the main page of the trial. Here, they provide complete details and instructions for the hashtag challenge.
The video interactions, banner views, user-generated content, and clicks can help businesses measure their performance.
Infeed Native Video Content:
The video length of it is 9 to 15 seconds. It supports the full-screen display of video along with a skippable option. It provides multiple features like app downloads and website clicks.
By analyzing the clicks, CTR, video views, shares, comments, play duration, and impressions, the brands can estimate the performance of their ad campaign.
Brand Lenses:
The brand lenses are the most significant feature that TikTok plans to engage the audience more. Soon, it infuses this feature of Snapchat 2D and 3D glasses into faces and photos.
Brand Takeovers:
Here, the GIFs, videos, and images take place. The connection of embedded links to the hashtag challenges and website landing pages within the platform is available. However, the brand takeover is limited to one business brand each day. It offers unique reach, clicks, and impressions.
How can brands leverage TikTok?
TikTok is not meant for advertising. Later on, its rapid growth and popularity influenced the brands to stop promoting their products or services on it. Most of the brands are working to implement new and unique advertising strategies on TikTok.
We can see that many brands are using trending concepts like contests and hashtag challenges to engage the audience with their brand-related content. The brands use hashtags on other social media channels, especially to promote TikTok ad campaigns.
For example, the brand has gone viral if you take the hashtag campaign #InMyDenim of Guess. They invited users for the #InMyDenim hashtag challenge, where they made the audience create the denim-wearing video content along with the hashtag #InMyDenim.
Another significant promotion factor brands use is collaborating with TikTok celebrities to launch their brand promotion. , we can say that it is influencer marketing on TikTok.
TikTok's effective marketing strategies
Creative and helpful content:
Creating video content that adds value to the viewers is the most significant entity to hold the audience's attention. The boring regular videos will ruin the brand's reputation.
You should provide the entertainment along with the ads you pass. Get the story concepts of your products, especially from those already using yours.
Personal research:
Get the relevant information on how your niche can gain success by doing real-time research. Create the video content that damn inevitably strikes at the audience. Analysis may be complicated and time-consuming, but later, you can obtain unbeatable success results.
Be consistent:
The regular updating of videos on TikTok is essential. Consistency is not just posting videos on TikTok; the flexibility here is uploading high-quality videos that drive more engagement.
Improve the follower's engagement:
Drive the follower's engagement by implementing simple tactics like posting a question, sharing business news, posting when fans are online, crowdsource feedback, asking fans to make a choice, responding to everyone, celebrating holidays or events, launching quizzes hos, ting contests, etc.
Partnering with others:
The collaboration with the trending users on TikTok helps you to uplift your brand in a short period.
TikTok Statistics
TikTok is the most downloaded app in Q1 2018, especially on the Apple App Store.
It is available in 154 countries, as stated by Apptrace.
In both the Google PlayStore and Apple App Store, TikTok is the 6th most downloaded social media app in the world in Q1 2018.
It is the most attractive and trending app for youngsters in India. It has 20+ million active users in India.
The TikTok app hit the 500 million active global monthly users in mid-2018.
TikTok has set up its unmarkable international stage by feeding the audience in 75 languages.
German-born twins @lisaandlena's s account is most successful on TikTok, with 25.2 million fans.
The video with hashtag #ThinBlueLine has achieved 37+ million views.
It is ranked 10th in the French video players.
3.81 million US TikTok downloads have been recorded.
Conclusion
TikTok has created history in social media by gaining a massive reputation quickly. Influencer marketing is the most sought-after platform on TikTok for trending brands. Until now, TikTok has not started any advertising streams; instead,  influencer marketing plays a vital role. Make your brand reach real-time customers byby posting your brand videos or collaborating with TikTok influencers.