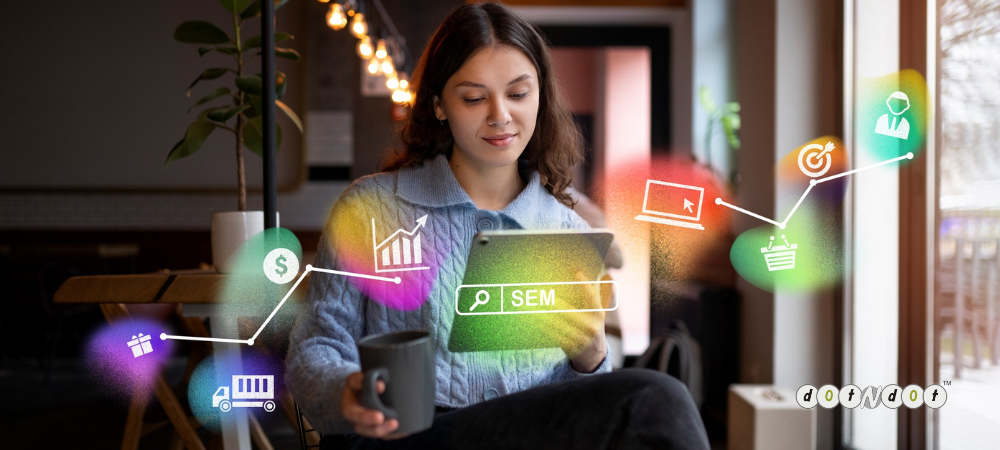 Are you in a dream of being in the digital world as a successful marketer? Then, start using Digital Marketing
Is there any impact on the marketing strategy with the entry of digital marketing?
First of all, what does it mean?
Digital Marketing
The process of marketing products, services, or tools by using digital technology through the online procedure involves various devices like mobiles, tablets, PCs, etc., which are more compatible with exchanging online sales as Digital Marketing.
Did you know?
Digital Advertising companies are aiming to blast with the most advanced Mobile apps.
Finding Digital Marketing Leads with a Location-Based Lead Generation Platform
Today's generation is content marketing, where there is little interaction between the seller and the purchaser.
The marketers put his content (about his product/service) on social media platforms like YouTube, Twitter, etc.
The viewer interested in those products/services will go through the marketer's channel and make a purchase decision, which comes under Digital Marketing.
Here, the most critical role is played by the social media promoting the channel, which makes your digital marketing more effective.
The success of the marketers depends on the lead generation. A lead naturally converts to a purchase decision after many offline or online interactions.
Previously, there were more offline sales where the purchaser and seller used to interact directly before dealing with digital marketing.
After many deliberations, discussions, and negotiations, the purchaser places a purchase order, which the seller/marketer executes, and the sales process is over.
Now, the purchase process is different. Courtesy of technology developments, a lot more platforms are offering updated information about anything and everything that the purchaser wants to know.
Today's purchase decision (especially in content marketing) depends on the content, the credentials, and content curation.
The increased (abundant) information equals attention scarcity. As the purchaser is flooded with more and more information, the marketer has to gain the purchaser's attention (lead) through various innovative techniques wherein he can prove the superiority of his product/services over the competition.
Some of the strategies used in this regard can include the following
Finalize the targeted audience.
Create the best content.
Update the contact details.
Curate the content.
Once the above are in place, the marketer can approach various platforms to promote his channel. The Digital Marketing platforms offer multiple provisions whereby the marketer can modify his targeted audience based on demographics and geographic locations. There are various ways to promote the channel, like CPC, CPA, CPM, etc.
Have you heard?
31% of Digital ad is going to lavish by 2020.
Social Media Marketing :
Social media is nothing but the way people communicate Online. According to a survey of the worldwide Web, there has been a drastic change in social media communication, number, and popularity over the past ten years. Social media marketing is the best digital marketing advice compared to traditional marketing.
There was anexplosion of growth in social media platforms like Facebook, Twitter, YouTube, LinkedIn, Pand Pinterest. If you are running a small or corporate business, you need social media to promote your Brand. It will increase the employee's reach, improve customer engagement, and get high income.
Facebook:
Facebook is one of the best video advertising platforms on social media. Billions of people use Facebook in their daily lives as a necessary things. You can post your business promotions on Facebook to reach a high audience. The video is the king these days, and Facebook videos create increased traffic to your website.
YouTube:
YouTube is the second-largest search engine on the World Wide Web. YouTube is the place where people watch different kinds of YouTube videos depending on the person's choice. YouTube maximizes the ROI of your business.
86% of people share videos while watching, so your brands get promoted through YouTube videos. YouTube channel optimization is vital to YouTube Promotions.
Twitter:
Twitter plays a prominent role in social media marketing. It allows short-form communication of 140 characters, including links and web content. Twitter communicates with people globally through personal profiles.
You can create individual and business profiles and publish content in short form. Twitter is unique from other social media platforms. Create a good business profile and tell your story to the Twitter organization.
Pinterest:
Pinterest is an image-sharing social media site. Pinterest lets you introduce your business through blogs and pin your business photos. Pinterest increases awareness in an audience, leads to getting new leads, increases sales, and leads to growth in website traffic. Pinterest can convert your audience to buyers. It is one of the best Digital Marketing sources.
Search Engine Optimization:
Search engine optimization, in short, is called SEO. SEO has a set of rules that need to be followed by a website to increase its search traffic. The site owners must monitor and optimize their websites to get a high search engine ranking.
In another form, Search engine optimization contains some strategies, techniques, and tips to increase website traffic. SEO enhances the usability and experience of improving reputation.
Search Engine Optimization is essential for every business for social promotion of their website. It gives 100 % accurate results if you process a general Organic Search engine Optimisation. SEO is vital to running the website smoothly and indirectly contacting the audience.
Two benefits to using SEO in your business: you can see the visual traffic growth on your website, and indirectly, you can check the content before posting on the site.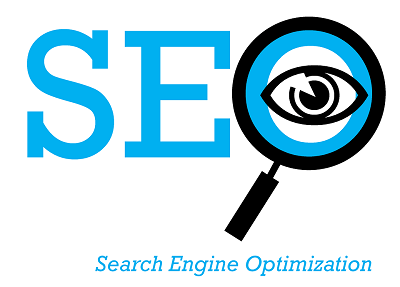 Image Source: Pixabay
Email Marketing:
Email marketing enriches business communication, targeting specific critical markets by sending emails. Email marketing is a user-friendly and cost-effective way of targeting particular needs compared to traditional advertisements.
Email marketing happens when a company sends a commercial email to a group of people through electronic mail, which may be a business deal, commercial advertisement, or brand promotion. Email communication helps to improve communication among loyal customers.
Some companies use Welcome Emails to request customers to visit and join their business forums. Email marketing is an efficient way of reaching their targeted customers and taking over their business emails and daily updates through emails.
Inbound Marketing:
Inbound marketing creates compelling content according to social media optimization and distributes through online channels. Inbound marketing is active in communities and is essential for companies.
Inbound marketing is one type of marketing that reaches customers online while they try to buy online. It is the core of attracting prospects to the business instead of searching for Prospects for business.
There are some techniques to follow in Inbound Marketing. They are: Do search engine optimization by picking up one or two best keywords for your business. Build personal branding for your brand, and inbound marketing gives a free guide to your business. Allow guest blogs, get email pop-ups, and ask the answers and questions on social media to get branding.
Online Advertising:
Online advertising is a new way to reach customers through digital ads on the internet. Online advertisements should be placed on the best platforms where many people communicate. Choose the best social media platforms like Facebook, Twitter, YouTube, and Pinterest for digital advertising ads or video ads.
The top 5 online advertising methods people use nowadays are Search engine Optimisation, Websites and Blogs, Advertising through Banners and display advertisements, social media websites, and Keyword Advertising.
Digital Marketing Tools for Small Business
If yours is a start-up or a small business, you need to establish yourself in the market first. For this, you need to focus on marketing your product and services. If your marketing budget is low, you can use the free online marketing tools and get the benefit.
Portent:
Portent helps small businesses by offering unique content ideas and content titles.
Yoast:
Yoast has a free SEO tool to optimize the business website, and the software also helps write meta descriptions effectively.
Chatty people:
Chatty people help to build Facebook bots. There is no need for any coding.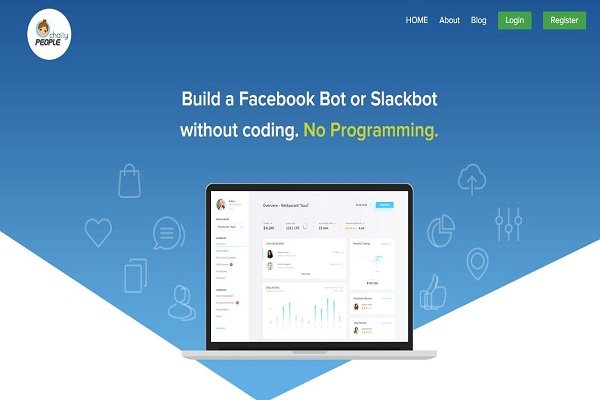 The video:
Video is a powerful marketing tool, and YouTube allows you to share and promote your marketing content that helps your business.
Siteliner:
Siteliner helps businesses by identifying duplicate content and improving the content.
Help a Reporter:
Help a Reporter Out helps journalists get publicity by quoting magazines, newspapers, etc.
The buffer:
The buffer is a social media management tool that helps build the brand and increases the number of followers.
Facebook Audience Insights:
Facebook Audience Insights is another marketing tool available for free to check demographic information about an audience.
Hotjar:
Hotjar helps to analyze the performance of a website.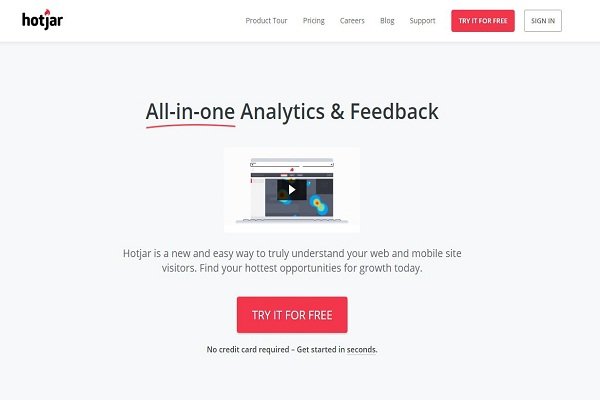 Hemingway App:
Hemingway App finds complex, lengthy sentences, passive voice, etc., in your content and helps to clean it.
Pablo:
Pablo, by Buffer, helps increase social media engagement.
Screaming Frog:
Screaming Frog is a free marketing tool that allows crawling URLs and gathers online elements for SEO evaluation.
Scraper:
Scraper allows the extraction of contact details from the internet and the features stored in an Excel spreadsheet.
Followerwonk:
Followerwonk analyses the business's Twitter account, explores the social channels, and helps the social graph grow.
SurveyMonkey:
SurveyMonkey is another free marketing tool for small businesses that helps to collect consumer data.
HelloBar:
HelloBar can be used to create banners to draw the visitors' attention and convert them into customers.
Shopify Logo Maker:
The Shopify Logo Maker marketing tool creates an attractive logo for the business.
CoSchedule:
CoSchedule helps write headlines that will attract traffic and increase shares for the business content.
Post Creator:
Post-Creator offers both free and paid services. The free service allows the creation of helpful social media posts.
Feedly:
Feedly is used to create content for business promotion.
Optimize Book:
Optimize Book is helpful for businesses to create editorial calendars with topics, days to schedule, keywords, and tag information.
Majestic:
Majestic provides in-depth backlink data.
Search network:
Search network campaigns planned with Google Keyword Planner.
Google Alerts:
Google Alerts can be used to get information on brand name mentions and competitor mentions.
Hootsuite:
HootSuite allows for managing multiple social networks and planning and scheduling social posts.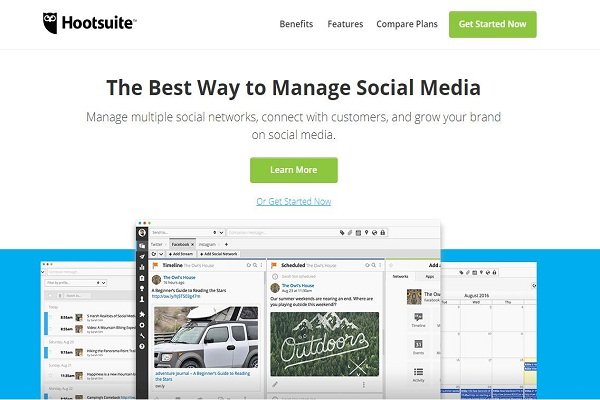 Optimizely:
Optimizely is used to optimize online marketing efforts and websites by experimenting with algorithms, design, and layouts.
Sniply:
Sniply is a free marketing tool that adds the call to action to web pages.
Headline analyzer:
The headline analyzer analyzes the emotional marketing value of headlines.
SumoMe:
SumoMe allows increasing button shares and web traffic using heat maps.
Canvas:
Canvas is a free graphic design tool that helps create content that stands out with visual content.
PromoRepublic:
PromoRepublic is used to create visuals for social media platforms.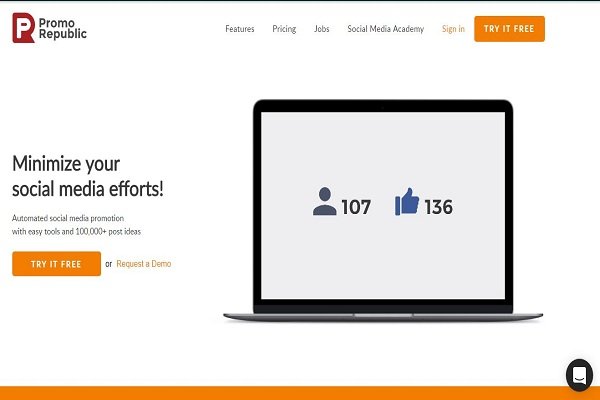 Due:
Due is helpful to track the time businesses spend on a marketing project.
Edit Flow:
Edit Flow is a WordPress plugin that businesses can use to get a calendar, editorial comments, and much more.
Evernote:
Evernote captures and shares notes about the marketing strategies for employees and clients.
The layout:
The layout is an Instagram app that helps create high visual content by using multiple images in one image.
PicMonkey:
PicMonkey helps businesses with high visual content, from collage-making to photo editing and image touch-ups.
MailChimp:
MailChimp is a free marketing tool that makes email marketing campaigns effective.
Ubersuggest:
Ubersuggest is a free keyword research tool that helps find relevant business keywords.
Boomerang:
Boomerang is another Instagram app that helps create mini videos.
Recite:
Recite and create quote images for businesses.
Answer the Public:
Answer the Public is a free marketing tool that allows users to determine questions related to their primary keywords and create content to rank higher to increase traffic.
WeVideo:
WeVideo can be used by small businesses to create professional videos.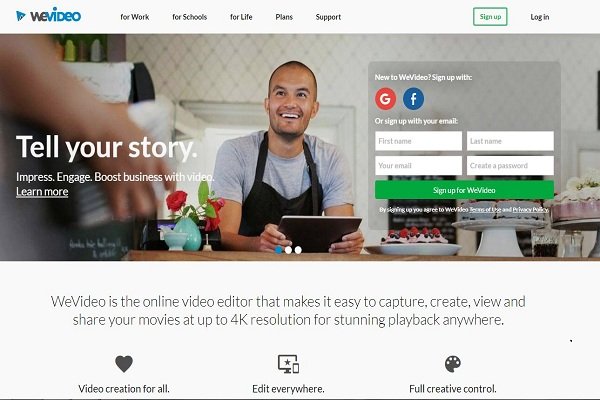 Tweetdeck:
Tweetdeck is a dashboard management app for social media.
WordPress:
WordPress allows for creating a free website.
Windows Movie Maker:
Windows Movie Maker is another free marketing tool. It is an open video editor that helps create compelling video content for businesses.
Ad Parlour:
Ad Parlour allows the creation of free ad mockups for social media.
Uprank:
Uprank helps marketers analyze their websites and create an effective marketing strategy.
CrowdRiff:
CrowdRiff helps travel professionals to create stunning visual marketing campaigns.
Mawai:
Mawai allows businesses to download video clips for commercial use.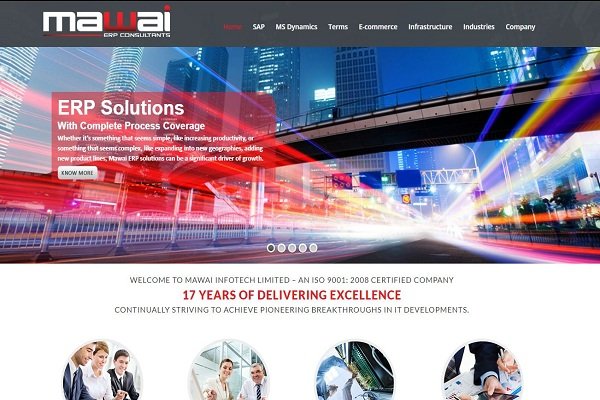 New Old stock:
New Old stock provides copyright-free images that can be used in marketing campaigns for more effect.
Did you know?
Above 80% of people will surf the online content than traditional.
There are many other free marketing tools used by small businesses whose marketing budget is low.
These free tools help generate content, create videos, offer free copyright images, and video clips. The devices add real value to the businesses' marketing strategy, and small businesses need not spend anything to use these tools.
Some of them also offer paid services in which more features will be available to make the marketing strategies effective.
Social Media Tools
Social Marketing Tools have become Global. The most popular are Facebook, Wiki, YouTube, bulletin board, boards, blogging, and twitterTwitteresults show that the three top-used social media tools are Facebook, Wikipedia, and YouTube; the top four reasons for using social media tools are social engagement, direct communication, the speed of feedback, and relationship building.
Social media has advanced from merely providing a platform for individuals to stay in touch with their family and friends. Now, it is a place where consumers can learn more about their favorite companies and their products. There are some new and best social media tools. They are
Qu:
Make content curation easy,hand-curated content for you, and fill your Buffer queue. Quuu is one of the sources for content suggestions and the only place where every post has been hand-reviewed in-house.
Yotpo:
To make your business easy, Yotpo will be collecting the best user-generated content and making full use of it. Curation is their new feature to help you manage and use user-generated Instagram photos.
Adobe Spark:
In this Adobe Spark, you can create beautiful graphics, web stories, and animated videos in minutes. For pictures, you can resize the image for different social media platforms, color palettes, backgrounds, and text. A web story is primarily a web page with photos, videos, and a book that tells a story. You can pick from a story template or start from scratch for videos.
Roketium:
Roketium focuses on creating short videos. You can edit short videos using this browse editor in three simple steps.
1. Add content and captions to the editor. You can upload images and videos or excellent copyright-free photos and videos from their gallery.
2. Choose a theme for your video. You can pick from their pre-made items or build your own.
3. Customize your video with filters, animations, fonts, and more.
Pixabay 2.0:
Pixabay has over 790,000 free photos, illustrations, vectors, and videos. The Pixabay community contributes more than 1000 new original high-resolution images and videos every day!
Gifs:
It is used for creating custom GIFs or turning your videos into GIFS. It allows you to take any video and live video and quickly turn it into a GIF using its web application.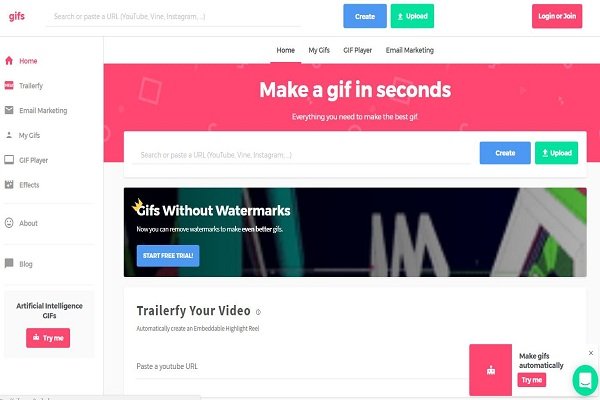 Calendar X:
It gets a calendar your audience can follow. You can push essential events to their calendar Once they follow your schedule.
Rebrandly:
Creating and sharing short links with your custom domain name is the easiest way. Rebrandly is a custom URL shortener for sharing branded links. You can turn long, complicated URLs into branded and memorable ones.
Yala:
It is best for using Social Media scheduling. It is a Slack bot that uses machine learning to determine the best time to post on Twitter and Facebook.
PostReach:
PostReach is used for content marketing analysis. PostReach automates content reporting for you. It tells you your crucial traffic stats, the number of shares, and the influencers who shared your content.
Reveal:
The most excellent way to automate your Facebook ads and track your marketing results. Also, it allows you to manage your ad campaigns from within Slack. Reveal is a great tool to stay on top of all the ad campaigns.
Ghost Browser:
Ghost Browser is a productivity browser for people who work on the Web. It allows you to log in to any website with numerous accounts from one window. It is a convenient tool to manage more than one social media profile of each social media platform.
Engage :
Engage is an app by Twitter that helps you manage your Twitter profiles. It lets you connect with influencers by highlighting prominent mentions and providing more data about your profile and tweets.
Snaplytics:
Snaplytics is best for Influencer marketing. Also, its analytics for Snapchat are very much needed for marketing and influencers since Snapchat does not provide them natively.
Intellifluence:
It helps you to discover and collaborate with the right influencers for your brand. Intellifluence is a simple way to get quality reviews and increase sales.
Waaffle:
Waaffle is a tool for making the most of your social media content. You can aggregate and monitor social media posts from Twitter and Instagram, analyze them, and publish the aggregated content.
Falcon.io:
It is a Customer Relationship Management (CRM) tool. Falcon.io is the platform for every kind of social media marketer. It allows you to listen, engage, build, publish, and measure your performance across channels.
Buffer Reply:
Buffer Reply is a social customer service software for support teams. It kept all your Twitter and Facebook mentions, direct messages, and searches in a straightforward inbox so that you and your team can quickly respond to your customers and resolve their issues.
Facebook:
They have all sorts of information on their Facebook wall, including photos of themselves and their networking group. It can Post comments, share your stories, and keep track of the latest news.
Twitter:
Twitter is used to update Short text of about 140 characters. Updates are often delivered to mobile devices for immediate notification.
Widgets:
Widgets Tool adds a badge to your website, which allows your audience to find specific hurricane-related information.
YouTube:
Many Internet users believe that video is the future of the Web and that the proliferation of broadband Internet connections means that more and more consumers will be watching video online as a core part of their Internet experience.
Linkedin:
LinkedIn has become a search engine for people, partners, and associates – and for consumers to find local businesses like yours. The search results will tell who is in my network.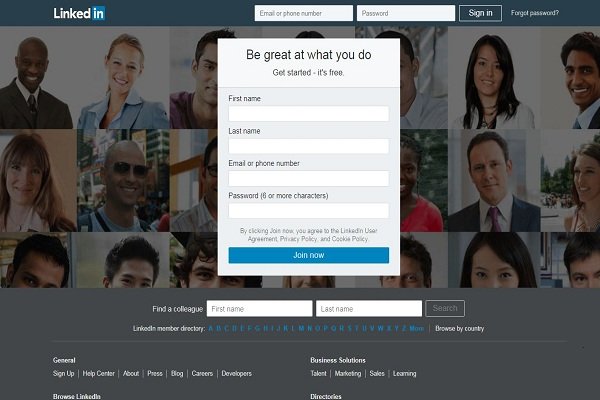 TweetDeck:
It includes a host of advanced features to help get the most out of Twitter: And also manage multiple Twitter accounts, schedule Tweets for posting in the future, build Tweet collections, and more.
IFTTT:
It saves time trying to manage social media platforms, apps, and websites. This tool can link all these services based on a trigger and an action.
SproutSocial:
Sprout Social combines more social media tools into one platform — from social media scheduling to monitoring to reporting.
Tweepi:
Tweepi is a simple-to-use, a powerful Twitter tool that will help you get Twitter followers fast. It saves time that will help you add more Twitter followers, so you can concentrate on doing the things you like most while your followers continue to grow.
SocialFlow:
Based on their research and algorithms, it Schedules your Facebook, Twitter, Google+, and LinkedIn posts at the right time for your audience.
AgoraPulse:
Agora Pulse is a social media platform with scheduling, responding, and reporting features. It has unique features, such as competitor analysis and Facebook contest apps, at a very affordable price point.
Sendible:
Sendible helps agency teams be more productive by managing all their client activities from a centralized hub, whetherg on a campaign for one brand or collecting social across tmedia housands.
SocialOomph:
In this SocialOomph option, you don't get access to any other social networks, so it is most suitable for people who want to focus all their energy on Twitter.
Every post:
It takes more significant control over social pages, making it easy to curate visual content of sources and customize and schedule posts.
Bit.ly:
Bit.ly is the world's primary link management platform, which measures your links with Bit.ly. Set up a free account, log in, and receive real-time analytics using your custom URLs, click-tracking, and other data.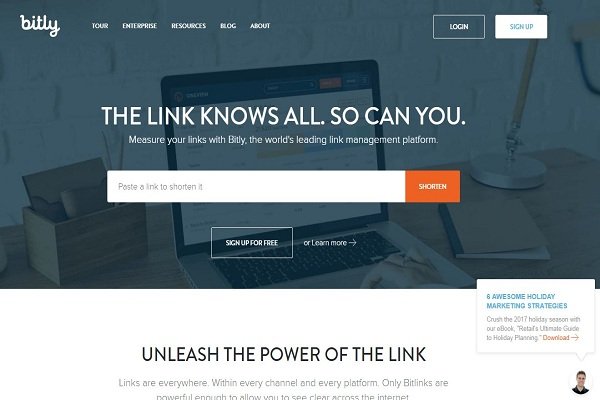 CrowdBooster:
It measures & optimizes your social media marketing. It is the perfect tool to help to make data-driven decisions. The analytics and recommendations CrowrdBooster provides are indispensable for learning what messages work.
Tailwind:
Tailwind provides recommendations for improving your Pinterest and Instagram performance.
OktoPost:
It can easily manage, measure, and amplify your social media marketing. In the world, over 70% of internet users on social networks spend at least one hour a day on average on those social systems.
The findings published by business professionals and marketers support the fact that businesses can have a lot of benefits from using social networks, which is why implementing those has become a part of business practice. Social media marketing is no longer considered to be on probation; instead, it has become an essential part of the business world.
Conclusion
The present and future will ultimately rely on the only word digital marketing, which has a huge demand as the evergreen platform to build the brand name as a successful marketer. If you want to be the one in that, go digitalizing your marketing strategy than traditional marketing.