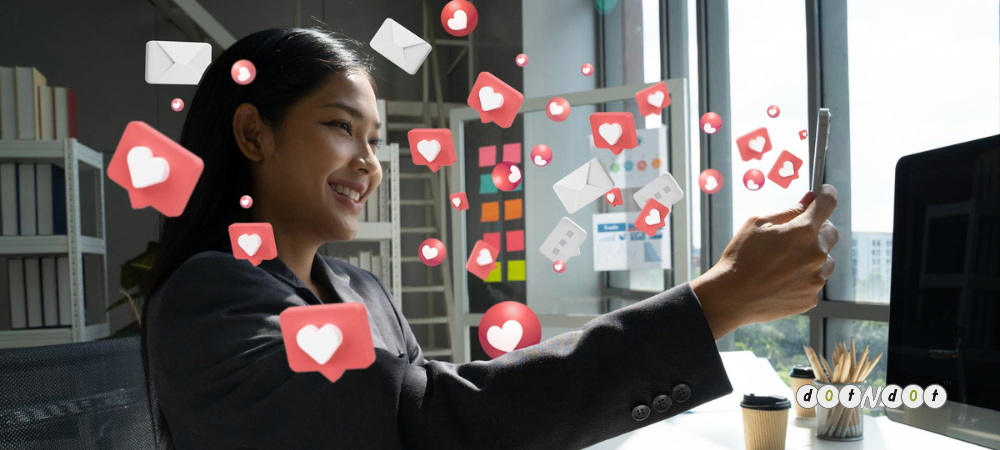 TikTok's Ticktacktoeinthe Marketing World!
If you have your business targeted at the younger generation yet haven't heard of TikTok, then it is high time that you understand the commotion. Like Instagram, Facebook, and YouTube, businesses are rushing in to advertise their stuff on it. TikTok is the next big thing you need to have your sight. If you believe the hype, know that your business should care about it. TikTok marketing is something that you have to start right away now.
What Is TikTok and Why Should Businesses Care About TikTok Marketing?
TikTok is a short-form video-sharing app that allows users many music and dialogue options to make, view, and share entertaining videos. Similar to Musical.ly but much broader in scope, TikTok, owned by ByteDance, offers users the opportunity to use special effects, filters, direct video upload from the phone, and many more.
Promoted as a video-sharing social network app, it has over 500 million monthly active users. TikTok specializes in 15-second musically oriented videos and lays the real creative challenge herein.
TikTok has garnered support from the locals of different countries because it has widely used the help of celebrities to promote the app to local audiences. But unlike Instagram or Facebook, TikTok has no space for display ads.
The businesses can only go in for influencer marketing or paid celebrity promotion on TikTok. If companies have to grow organically, they can cleverly start or participate in challenges and contests through hashtags so that they get noticed by users. TikTok marketing is the best way for marketers to promote the business to a real-time audience.
Who Uses TikTok Marketing?
TikTok is a massive hit with the younger generation or the Gen-Z.
40% of the users are between the ages of 16 and 24.
Douyin in China has 500 million monthly users, 75% of whom are 18-35 years old.
40% of TikTok users are from outside China.
25%of the app downloads are of TikTok in India.
In the USA, it has been downloaded 80 million times.
Now you know that these staggering figures are precisely why TikTok marketing is gaining popularity.
How Does TikTok Make Money?
Tik Tok Brand Partnership
TikTok makes money by collaborating with companies to start campaigns on the app. So, be it a new launch or a new movie, companies can approach TikTok as a base for their product promotion.
In-app Purchases
Content viewers can purchase coins and stickers from TikTok to react to live-streaming videos. Moreover, its popularity and the number of downloads increase its valuation in the market.
What is the Benefit of TikTok?
Brands using the TikTok platform to connect with the audience have shown good sales conversion thanks to the growing popularity of this social media platform.
For businesses that are targeting the youth, TikTok is where your marketing should be.
TikTok for business can be used primarily for products and services that cater to fashion, health, fitness, arts like music and dance, hospitality like hotels and rooms, food, education, etc.
Association with TikTok influencers helps you reach the target audience
TikTok advertising is the best platform for any new product launch
You can have TikTok brand partnerships to promote your brand using this platform
Is TikTok Good for Business?
TikTok is suitable for businesses, just like other social media platforms. It has a niche audience, and if your business is into something that appeals to the younger generation, then TikTok advertising would be the best for you to build your brand.
It works best for business sectors like music, health, fitness, food, hospitality, films, arts, fashion, etc. However, it is not best suited for the B2B model and financial services.
How Do I Promote My Business on TikTok?
Sell through Creativity
TikTok is all about being funny through innovation and creativity. Keep it short, sweet, and light. Whether you want to promote your fashion business or hospitality, there is room for everyone on TikTok.
Create short videos on hacks, tips, results, and so on. You can shoot candid videos or lip-sync and dance to famous movie songs. Experiment and analyze what works and what needs improvement. In short, there is a lot to be done through TikTok.
Trend through Hashtag
Trending on TikTok is through the clever use of hashtags and descriptions. Businesses must identify hashtags that are apt for their products and services. Another way of trending is by creating your new hashtag around new product launches and encouraging users to share it.
In collaboration with the TikTok influencers, the branded hashtag challenge has gained prominence and gathered the highest amount of views, effectively using TikTok marketing.
Engage through Community
Companies and businesses must follow and engage with the audiences to identify the correct hashtags. Join the trending hashtag community by commenting, liking, and reaching out to emerging customers.
Creating a unique hashtag challenge and encouraging other TikTok users to participate and create videos using this hashtag is one of the best ways to promote TikTok for brands.
Promote through TikTok Influencers
Like other social media platforms, TikTok's brand partnership with influencers helps businesses market their product to the intended demographic. Many of the big companies use TikTok sponsors to run their marketing campaigns.
25 Steps to a Successful TikTok Marketing Strategy for Brands
Use the most appropriate, eye-catching hashtags that can drive audience engagement.
Post the content at a specific time when the audience consumes TikTok the most.
Hold the audience engagement by delivering the content in their preferred local language.
Try to share the most relevant content that can boost your business's sales.
Make sure to involve your users or fans in your brand ad campaigns where it can easily find the other user activity at your brand.
Emotion is the most epic touch that melts the audience's hearts and makes them turn toward your brand.
Elaborate your business goals, which means planning your target audience on TikTok.
Make use of correct and relevant hashtags that reach the appropriate customers.
Consider identifying your buyers who can be your leads to generate sales by referring their friends and family.
Create the most valuable and unique content on TikTok. Now it is the time to find massive boring content on it.
Make your audience participate in challenges and feature that in your business profiles.
Invest in TikTok ads; choose experts to create and deliver the content at an extreme level.
Collaborate with influencers who are most valuable to generate potential sales.
Launching a contest and offering gift vouchers for the winners can drive massive new audience engagement.
Keep an eye on finding the performance of your TikTok ad campaigns to know the most successful content and vice versa.
Launching user-generated content helps in promoting your brand to millions.
Choose to launch the in-feed native ads similar to Instagram stories, where you can add a call-to-action button and website URL.
Use Brand Takeovers on TikTok, which lets the users visit your business website when opening the app.
Feature the celebrities in your ad campaigns that let their fans become your customers.
Create tips and tricks that genuinely help and solve your audience's issues.
Host the interviews of leaders or celebrities that give your audience an emotional or inspirational touch.
Partner with other top brands that partially pull up your brand reputation.
Push your content on significant days like Thanksgiving, Boxing, etc.
Generate helpful content on Quarantine time to make your audience safe, letting them know you take great care of your customers.
Try launching the most fun-generating videos that entirely expose your brand.
Conclusion
Instagram and YouTube were used mainly by teens early during its launch. It was much later that it caught the fancy of the entire world. While it might be too early to predict the actual effect of TikTok on brands, it is better to jump on the bandwagon and get a smooth transition rather than being late and left out. Isn't it better to try and reach your audience rather than dismissing it outright without even giving it a try? TikTok marketing is one of the best ways to get the exact audience.
Use TikTok sensibly and creatively; it is sure to reap in the benefits for your brand.